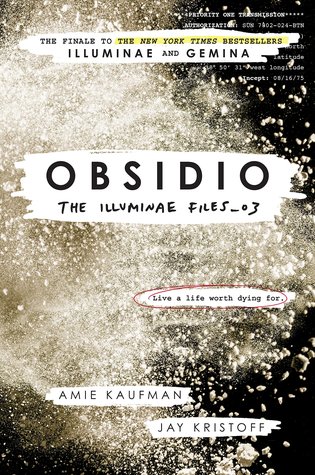 Where to start with this one? To say it's been long awaited would be a bit of an understatement- the Illuminae Files have been such a hit, and the format of the story so unique, that everyone and their brother has been waiting for this seems like. I was no exception. And I'm happy to report that this one rocked. I was expecting this to be a slight come-down for me as I really loved Gemina, but no- this one was amazing also. A solid conclusion, and all the feels.
All the feels. This one had some serious emotional heft, and I guess that's only natural given the stakes in this one. All the survivors from the first two books are now en route to Kerenza IV, the scene of the invasion that started all this, but things are grim. With supplies dwindling and AIDAN acting rather sketchy (yes, AIDAN is back) they really have their work cut out for them. And we get to return to Kerenza itself, as we see that the BeiTech occupation there really is not going that well.
There are a few issues though. Just like the first two books we have a couple who have to overcome adversity and a rough personal history to work together, and that makes three couples now sharing this story. Might be one too many. Asha and Rhys are great but I don't think they were characterized quite as well, although to be fair they share a lot of space in this book with other characters, so there isn't enough time to really get to know them. They were just a little more cardboard cut-out to me. Also there were some things that seemed a bit convenient, which I'll touch on more below in my spoilers section.
I'm happy to report that I liked AIDAN more this time around. Lots of people seemed to like him in the first book but he irritated me, and here I felt much better about him. A big part of its story is- what makes us human? Or more accurately, what makes us alive? When AIDAN thinks he exists because he has thought, he has a point there. He's clearly self- aware, but not only that, he feels- if feels isn't the right word, he has something that makes him more than machine. Can a machine grow to love a human? AIDAN certainly makes us wonder that. This element of the story was done so well, and of the feels I mentioned- yeah AIDAN is part of that.
We also get another military perspective here, like the assault team in Gemina. Here they are ground pounders, the infantry force occupying Kerenza. The surviving colonists on the planet are trying to fight back as best they can, as well as survive, and the authors really want to explore both sides.
One thing that really struck me was the idea of how many variables can decide your fate in a conflict like this. IS there such a thing as luck? In the story they really get across how random things can be, and how heartless war is. Not something to be glamorised or romanticised- there are real people on both sides, with loved ones, and their fate rests on a chance occurrence. There were a few standout moments for me as well, such as when Katya and Asha were talking faith. I loved seeing Hanna back in the fray again and the interplay between the players- including Kady, Ella, and even AIDAN- was awesome.
So yeah, this one rocked. It made me feel a lot more than the average YA book does, and I've said it before but I really think some of the best science fiction is happening in YA now. This is a perfect example.
Spoilers
Just a few additional observations. These may sound like complaints but I really did like this one, they're just things that came to mind. Mostly realism issues. We learned that there were about 18,000 colonists on Kerenza, and since the mining operation was illegal, the BeiTech goons felt at least partly justified in their harsh tactics. Harsh being an understatement! But if there only roughly 3,000 colonists left, that means BeiTech liquidated about 15,000. Just... wow.
I don't really see how BeiTech could keep that under wraps, jump gate disabling and covert assets at Heimdall notwithstanding. And if this is the 25th century or whatever, why are so many things similar to now? Servers still take up a ton of space, apparently look just like they look now (wouldn't miniaturization be way more advanced?) and weapons are things like railguns and nukes. No high energy weapons?
I also thought the authors did a great job though of humanizing the soldiers in various ways, even as they behaved horribly. The cat that they took care of even as they executed colonists brought home the contradictions inherent in wartime, when people are killing other people. Also there some chilling moments in the aforementioned interactions between AIDAN and the protagonists- I thought especially when AIDAN took it upon itself to implement "population control"- the conversation with Ella about maybe needing to kill was chilling.
Some standout POV's for me were Hanna, Ella, AIDAN (surprisingly) and even McCall. She was refreshing and I was hoping she wouldn't die! I did think the apparent deaths of Ezra and Nik were a little cheapened when it turned out they survived. Not that I wanted them dead, but it was such a powerful moment, and really reinforced the grim reality that not all of these characters were going to survive. So I was a little disappointed there.