Jessica Jones season two felt like a breath of fresh air to me, especially when compared to the other Marvel shows on Netflix. I think all of the Marvel shows to this point have felt a bit bloated, like they could use a few less episodes to make things tighter, and even though I felt that way about this season of Jessica Jones as well, it was less of a problem. The second season of this show was fun and compelling and went in a new direction- and I think it worked.
This isn't going to be a review as much as it is a discussion post- I just want to talk about a few things that made this show stand out for me. And naturally there'll be a few complaints as well, but by and large the good far outweighed the bad. This is going to be spoilery, so if you haven't watched season two yet, or don't want spoilers, you might want to come back after you've seen the show.
The thing I liked the most about season two was the lack of a big bad villain. Last season we had Kilgrave, who was of course played phenomenally by David Tennant, and while he makes an excellent villain, I thought it was nice here that the show explored themes of family and redemption, rather than having yet another slow build to a showdown with a villain. Tennant does of course make a brief appearance as Kilgrave, in moments late in the series when Jessica is doing battle with herself, and those moments are electric. And Janet McTeer was phenomenal as Alisa (Jessica's mother)- her performance made me root for her character even as I was a little scared of her, and disgusted by some of her actions.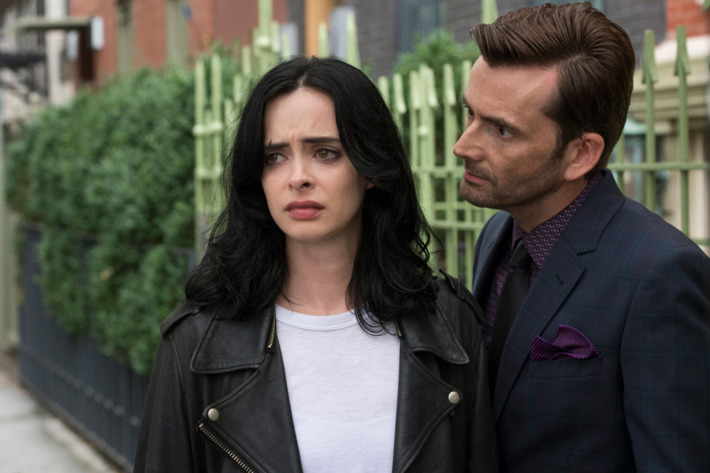 Jessica goes through various stages of grief and denial throughout the season, as she struggles with the fact that her mother is still alive, even if she is a danger to those around her. And the scenes late in the season with them together- running together- were so well done. The stakes were so personal- Jessica is pulled in so many different directions even as she tries to reconnect with her mother she didn't know was alive- and it was refreshing to have that be the focus, rather than the usual superheroics and dastardly villain.
I think the Marvel shows can learn from this- give us more intimate dramas, more nuanced storytelling, rather than the standard formula. I don't think everything worked however- the Trish storyline was a little weak for me. I liked the dynamic between Trish and Jessica, and I think they work off each other really well, so to see them as possible antagonists was a little disappointing. I mean only time will tell what season three will bring, but they look like they're set up to clash. And frankly the decision Trish made, both to seek out powers of her own, and to shoot Alisa right in front of Jessica, were problematic for me.
The Jeri Hogarth subplot took up a lot of time and seemed unnecessary as well. I get the showrunners wanting to use Carrie Anne- Moss and provide her a springboard, but it didn't really bring anything to the table. And the competitor PI played by Terry Chen was a great addition to the cast, but in spite of some great moments with Jessica and an alliance with Hogarth at the end, it didn't really add a lot either. Still it was nice to see this alumnus of The 100 appear on the show.
I thought Jessica was a little one note in the early going- I mean she drinks, she passes out or engages in casual sex, she's pretty rudderless- but by the end she showed real emotion, real conflict as she struggled not only with the actions of her mother, but also her burgeoning relationship with Oscar. Which, can I say, I am totally here for? The ending especially was poignant. Jessica may have lost, but she's also gained, and I'm looking forward to seeing more of them.
You know what else worked for me? The setting and the general vibe. There was a noir-ish cast to the music, especially when Jessica was alone or wandering the streets of New York City, and her occasional voice-over just added to that. I thought it worked great, and even though several of the Marvel shows have utilized NYC well as a setting, it really seemed to be front and center here. It just added so much. I read somewhere too that the episodes were all directed by women, and as I reflected on that, it made a lot of sense. There was a definite lack of male gaze or gratuitous nudity, and the violence level seemed more reasonable too- again I think Netflix should take note and learn from this.
For me this was easily the best Marvel show yet on Netflix. It broke the mold a bit, took some liberties perhaps with the formula, and for me that's all good. I hope we see more storytelling like this in the future, and more women directors running the ship.