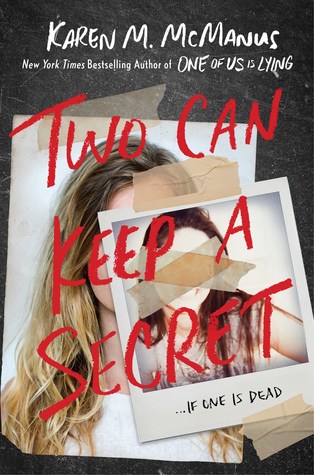 Two Can Keep A Secret is a YA thrill fest I didn't even know I was looking for. I was impressed with Karen M. McManus' first book One Of Us Is Lying but this was on another level. I pretty much loved everything about it- except maybe for the end. Still this book was about the journey for me, not the destination, so even though I have a few quibbles about the end, I wholeheartedly recommend this.
This is a dual POV story told from the perspective of Ellery and Malcolm. Ellery and her brother Ezra come to Echo Ridge to stay with their Nana while their mother is in rehab out in California. Their mother, Sadie, was kind of a big deal back in the day, growing up in Echo Ridge, being Homecoming Queen, and she had a twin sister as well- Sarah- who disappeared and was never found. Sadie went on to be an actress, although she only really has one minor role she's famous for, and she was something of an unconventional parent as well.
Echo Ridge has a lot of little mysteries for such a small town. It's nestled near the Canadian border in upper Vermont, and is an upscale community, but in addition to Sarah's disappearance a few decades ago, there was a murder of a Homecoming queen just five years before the book opens. Lacey was dating the brother of Malcolm, and so when she died suspicion focused on him, but the murder was never solved.
Ellery meanwhile is a true crime buff. I loved Ellery's perspective, her brother Ezra was awesome, and a lot of the supporting characters were great too. Especially Mia. This is almost like an ensemble book, in some ways- between Ellery and her brother, Malcolm and Mia, as well as the three mean girls Katrin, Brooke, and Viv, I felt like there was constant excellent character work going on.
The plot really heats up when one of the "mean girls" goes missing, and suspicion falls on Malcolm. He was the last one to see her, after all. Ellery and Malcolm set out to solve the mystery, along with all the other related mysteries swirling around beneath the surface. The final reveal and twist I did not see coming, but I had a blast navigating this town and trying to figure things out. And I was punched in the gut a few times emotionally as well. I loved the halting, shy beginnings of a relationship between Ellery and Malcolm, and I could totally read a Mia story if the author is listening!
All in all this story was a blast, the chapters are short and punchy, the characters are delightful, and the clues and hints keep coming. I loved this book and would love to read more set in this town, as well. Karen M. McManus is pretty much an auto- buy author for me now, and if this appeals to you at all, I would say- get it.