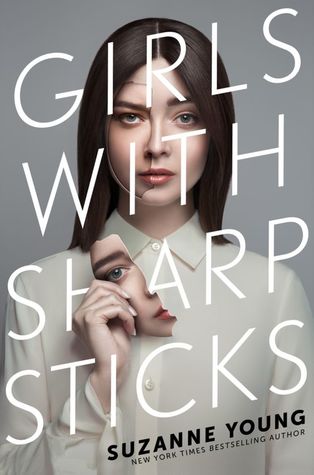 Girls With Sharp Sticks is the first book I've read by Suzanne Young, and what a place to start! Wow. I was captivated (and horrified) by this from page one. And I see it appears to be a duology, so I'm so glad this is not the end of the story. It's a perfectly good ending, mind you, wraps things up while leaving the door open for more- but that epilogue, y'all. Woah.
Philomena is a student at Innovations academy, your typical boarding school with a dark secret. In this case Mena and the other students may be the secret! The girls are raised to be china doll women for the benefit of men- I mean, they must exercise good manners, defer to men, be attractive, etc. Sounds like an updated Handmaid's Tale. And it's almost as grim. Every once in a while if a girl gets uppity she must submit to "impulse control therapy", whereupon she disappears for a while and comes back all nice and compliant. The problem is one of the girls is acting out, and when a sequence of events leads Mena to forgo her nightly "vitamins" she realizes that her memories may not be entirely reliable.
If this sounds creepy it is- and I loved it! But it is dark. Young doesn't pull any punches here, and if there's one thing I didn't like it was that the men running the place seemed almost cartoonishly evil. I mean, a little nuance would have made it more realistic? But on the other hand this is timely. In an era of MAGA, one wonders who we're making America great again for? I hate to get political in a review, but it's unavoidable because this book tackles that question head on.
I wondered a few times if they were really going to go there- I mean the clues are there, and yet there are other possibilities. But nope, Young went there. And I applaud the choice. The ending may shock a bit, although again the breadcrumbs are there, so it wasn't so much the how of what was happening, but the why. This book may make you mad but at the same time I laughed a few times- not because it's funny, although the girls' interactions are awesome, but because the devious activities going on are so out there I was like- really? But like I said- I loved it.
Speaking of the girls, the most prominent classmates are Sydney, Lennon Rose, Annalise, Brynn and Marcella. Probably a few others I'm forgetting. And of course a major supporting character who plays a huge role. Oh, and a love interest. I kind of liked everyone here? I wanted everyone to make it out alive, and there were some truly horrifying moments where I was like nooo. The girls love each other and have each others' backs, and seeing what they were up against- I wanted to cheer a few times. Horrifying and inspiring at the same time.
This is a story that might stick with me for a while. I felt for these girls, and yet they stood up and said no more, there are themes here of acceptance, what it means to have a soul, and I loved the friendships- this was a phenomenal read, dark and thrilling and thought- provoking
SPOILERS
I wanted a little more of Mena and Jackson together- especially at the end. When it was all going down. Jackson getting injured and therefore being less than helpful seemed a bit convenient. At the same time I didn't want Jackson to just save the day- this is Mena's story and her role to play- so maybe it's okay.
Speaking of, I wanted more mayhem. There was a lot of build up and I wanted Mena and the girls to burn it all down- literally clean house- and I didn't quite get the revenge kick I wanted! Although what I did get was good!
I was really sad about Valentine.
I thought it was gutsy that they were essentially AI's. I thought they might end up being clones, or robots, or both! Or that it might turn out they were just girls being altered, but no- Young went there.