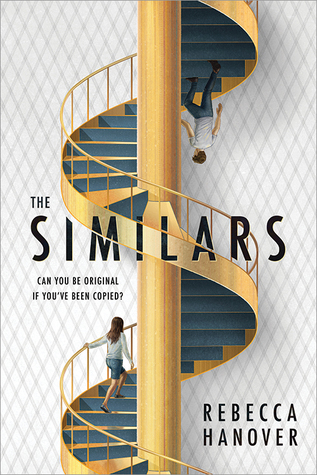 The tagline on the ARC (advanced reading copy) I received says Can you be original if you've been copied? And on the back it says Six clones. One elite boarding school. Countless deadly secrets. Okay I can get behind that. Clones and a boarding school? Sign me up. Secrets? Of course! I was quite taken with the premise of this one and found it to be a fast read as well.

I received this ARC in exchange for a review, and this has not affected the substance of my review in any way.

Emma Chance is enrolled at the prestigious Darkwood Academy in Vermont, and as the school year begins she is mourning the suicide of her best friend Oliver. The two of them had been inseparable, and at some point in the recent past he had told her he loved her, which she brushed off, wanting to remain friends even though deep down she seems to have had similar feelings. So now she carries around guilt over that as well as the fresh grief of his recent passing. Imagine her shock when she arrives at Darkwood to discover that a clone of Ollie is also attending. A mysterious benefactor has cloned six people, including Ollie, and they are attending the academy for the first time.

To complicate matters, another of Emma's friends has been cloned as well, so she not only has a likeness of Ollie to deal with, her best friend Prudence has a lookalike running around too. The six clones are called the Similars, and their arrival on campus sparks outrage and resentment from some, including some of the students who were copied, and support from others. So there is an undercurrent of current events here, with the cloning question- should clones have rights?- standing in for many of the issues facing the world today in real life.

Emma soon gets to know some of the Similars, but she also learns some disquieting things about them and their strange patron. It turns out the academy has a lot of secrets (shocking right?) and a lot of history that dovetails with Emma's prior life. Her father attended after all, and on top of that she begins to feel drawn to Levi, the clone of Ollie.

I'm a sucker for clones and I love the exploration of clones' rights as well as the science fiction aspects of the story that popped up. I was interested enough in Emma's past and her relationships with Levi and others that it was compulsive reading for me. I would like to see more on the other Similars, and a little more exploration of Darkwood but otherwise I had a lot of fun with this.

It wasn't clear to me that this was a series when I started it, but I see now there is an untitled sequel listed on Goodreads, so I'm glad to see that. I will absolutely read the next one and I have to know what happens next.