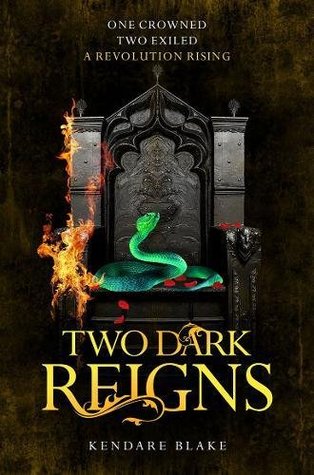 You can see my non spoilery review but as this series is so twisty and fun, I wanted to post some additional thoughts and get your opinions as well. Have you read this series? If not, what are you waiting for? It's bonkers! But beware- this discussion will have spoilers for the entire series at this point.
I'm just going to do this in a stream of consciousness way, as things occur to me. As always, feel free to chime in- what do you think?
I've always liked all three queens, but I think Mirabella is definitely my favorite now. Poor Katharine means well, and when she's herself I feel for her- but her Undead state is pretty wicked. And I guess Pietyr's toast?
Mathilde the oracle says that Jules was once a queen and may be again. What does that mean? Are we going to find that Jules has some connection to Illiann or Daphne?
I did not see the plot twist coming with Daphne having ruled in Illiann's stead. Wow- they were sisters, too. But it's not spelled out that Daphne killed her, or did I read it wrong? Although it certainly appears that Daphne did? Also, is Daphne really Roxane from the Prologue- the elemental queen who was supposedly killed?
I loved the ambiguity of the mist- no one knowing what exactly it was about.
Emilia pushes Jules pretty hard- and it's hinted she has feelings for her. What do you think of Emilia?
I enjoyed seeing Arsinoe and Jules retain their close friendship when they were reunited- with the whole rebellion thing I was afraid Blake would have them be at odds, and so far she didn't go that way.
Nice to see Bree struggle a bit with her loyalty to the crown, given that she was so close to Mira
Did anyone else roll their eyes when Arsinoe didn't tell Mira what Daphne told her- about Mira needing to die?
Mira loved Joseph! At least as much as she could, considering how little time they had together. I know Mirabella/ Joseph is a sore topic for some, but I'm glad she addressed that.
Katharine killed the Lermont oracle- is she redeemable?
The shopkeeper who tells Arsinoe it's nice to see a good poisoner- I liked that angle. I guess a poisoner could just as well be a healer, right? Have the Arrons kind of corrupted what poisoners could be, hence the hatred towards them?
Mirabella tells Emilia they can't put Jules on the throne (at least not in her current state)- is that enough to sway her to Katharine?
Who is your favorite character- and do you have any predictions?