Jonny Quest is one of my favorite cartoons but I've never seen all the episodes. It only ran one season although there was another series in the 80's. Here I'll just be looking at the original.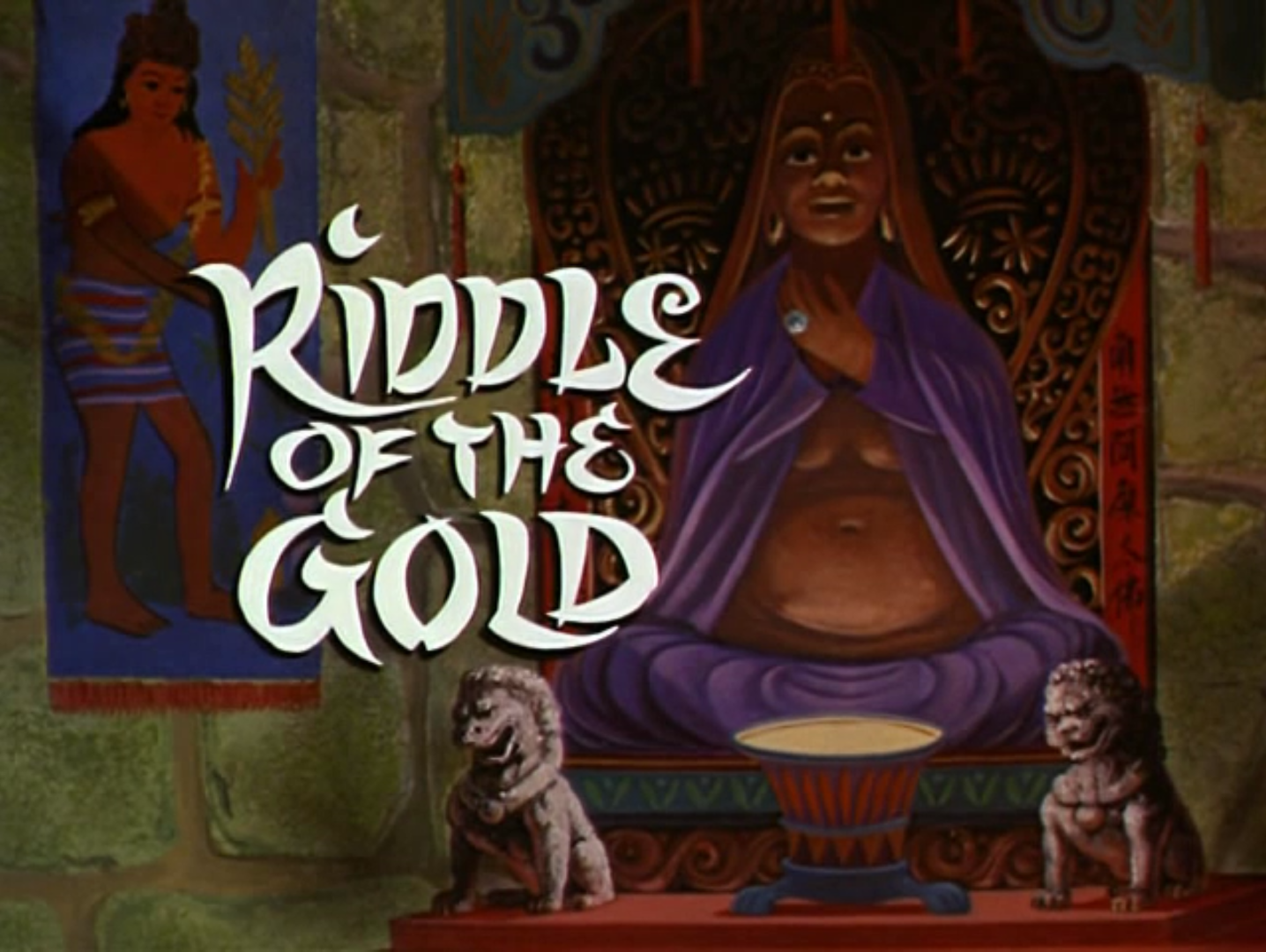 Riddle of the Gold takes Jonny to India, where a maharajah is conspiring with evil Dr. Zin to produce fake gold ingots. Dr. Quest is recruited by Intelligence One to investigate since his old associate Dr. Gunderson is the only other person who knows the transmutation process. Unfortunately the maharajah is dead before the Quests get there, as Kaseem (a lackey of Dr. Zin) kills him on Zin's orders. Kaseem then impersonates the maharajah and makes several attempts on Dr. Quest's life once they reach India, but he is unsuccessful. Quest and his party pretend they are filming a tiger hunt to get close to the maharajah's operation and of course while all that is going on Jonny and Hadji do the real investigating.
They explore the old stripped gold mine that has supposedly started producing again, and discover Dr. Gunderson working underground to produce the ingots. He's under duress, of course, and when the fake maharajah discovers the boys snooping around, he captures them (and later Dr. Quest) and is going to blow them up- but luckily Bandit saves the day. I wondered why on earth they would bring Bandit along on a trip to India, given that he's such a pain in the ass at times, but I guess it's good they did!
This is also the first appearance of Dr. Zin, who is apparently an old nemesis of Dr. Quest. I'm assuming he's going to show up in future episodes. I thought this one was pretty pedestrian- not a lot happens that's very exciting, and frankly I'm not even sure why this nonsense about fake gold would be something that Intelligence One would send Quest to investigate, but whatever. The most noteworthy event might be when their train car is released going up a mountain, causing a dangerous crash that almost results in them going over a cliff.
The bad guys are fairly bumbling as well, or maybe they're just not good with tigers. Two of Kaseem's bumbling lackeys release a tiger during the hunt, intending for it to kill Dr. Quest, only to have it turn on them! And Kaseem himself becomes cat food when the tiger breaks free later during the climax. So all in all, not a good outing for Dr. Zin's people.
I give this one 2 of 5 stars.