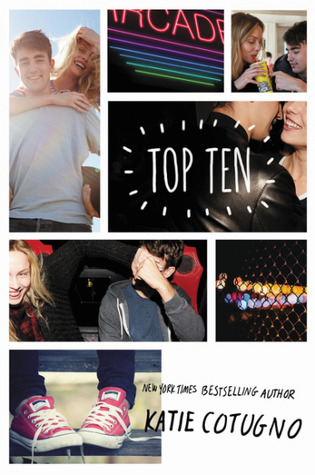 Top Ten is the first book I've read by Katie Catugno and I thought it was a lot of fun. Gabby and Ryan are total opposites who are thrown together by circumstance and the friendship that results is surprising to them both. Ryan is the super outgoing hockey player guy who all the girls want, while Gabby is quieter, has anxiety issues and doesn't like to do anything Ryan does, at least when it comes to parties and all that. But... somehow their friendship works. And is it more than friendship? They both wonder that at various times, and in spite of some near misses, their friendship stays mostly intact. But if friendship becomes love, what then?

I really liked this look at a high school friendship/ romance. We all know what high school is like, and I thought Catugno did a great job capturing the hits and misses, the angst and terrors of first love, as well as the minefields that come with high school as a whole. Gabby's family was a hoot too, they're very stable and play Monopoly every Friday night- a family event that Ryan gets invited to (or invites himself) and loves to be a part of, even though he could care less about Monopoly. And the problem for Ryan is his home life is not very good.

So Ryan, in spite of being party boy, loves spending time with Gabby and considers her his best friend. She feels the same, even though they're so different. Both initially are interested in more, but then reconcile themselves to being friends only. Ryan is one of a few people who doesn't just expect Gabby to "get over" her anxiety, and while she occasionally worries about being seen as his sidekick, he makes it abundantly clear he doesn't see it that way.

I thought the portrayal of anxiety was done well, and the story is divided into ten chapters, each one showcasing an event in their high school years or just after, and I thought that worked well. The ending is iffy, some may love it and some may hate it- I was kind of hoping for a slightly different result- but I think it does work. I really enjoyed this book and will most likely read more of Cotugno's work. If you want a fun, breezy contemporary this is a good choice.