Top Ten Tuesday is a weekly feature hosted by
That Artsy Reader Girl.
Each week a new Top Ten list will be posted. Everyone is welcome to join. Link back to The Broke and the Bookish so everyone can check out other bloggers' lists. It's a fun way to get to know fellow bloggers.
This week is Top Ten Bookstores/ Libraries I've Always Wanted To Visit. I decided to go with fictional libraries for this one as it sounded more fun. So here are ten places of lore I'd love to visit (and fair warning- there's a heavy Game of Thrones and LotR emphasis).
The Citadel at Oldtown comes to mind- all that knowledge. Plus you're not far from the Arbor (good wine and libraries go together well).
In a similar vein, how about the archives of Gondor at Minas Tirith? If I remember right, Gandalf went there for info during the War of the Ring.
The Encyclopedia Galactica that Sagan discusses.
Or, you know, The Hitchhiker's Guide to the Galaxy as an alternative. In case the Encyclopedia Galactica is too stuffy.
Per Douglas Adams: "In many of the more relaxed civilizations on the Outer Eastern Rim of the Galaxy, the Hitchhiker's Guide has already supplanted the great Encyclopaedia Galactica as the standard repository of all knowledge and wisdom, for though it has many omissions and contains much that is apocryphal, or at least wildly inaccurate, it scores over the older, more pedestrian work in two important respects. First, it is slightly cheaper; and second, it has the words "DON'T PANIC" inscribed in large, friendly letters on its cover." - via Wikipedia
Clearly an advantage.
Back to Cosmos for a sec- the Library of Alexandria. The only real world library I went with, as Sagan discusses it as well- imagine all the lost knowledge!
How about the Jedi Temple?
Or the Jedi sacred texts from Ahch-To. What the heck is in those?
The library at Castle Black, containing books even the Citadel does not have.
Back to Middle-earth. Does anyone doubt that Rivendell has an amazing library?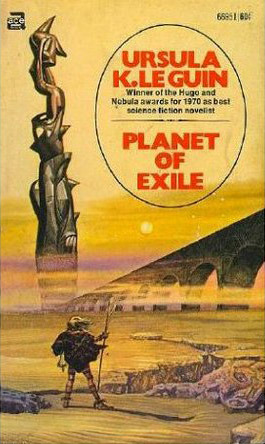 The storehouse of lore in the farborn city.