One of the more interesting things about A Song of Ice and Fire is the concept of warging, or skinchanging. There are several characters in the books who can do this, among them Jon Snow and Arya Stark- but also Bran Stark, and I think his situation is in some ways the most interesting- and perhaps the most chilling. This post will contain spoilers for A Song of Ice and Fire.
Bran of course travels north to the Three Eyed Crow to awaken his greenseeing abilities. He wargs not only into his direwolf Summer, but also into Hodor, the stableboy from Winterfell. It's noted several times that this makes Hodor uncomfortable. This alone is alarming. But there are other problems. At one point Bran is in Summer and eats the remains of dead humans- and we won't even touch on the theory that Bran may have been fed Jojen's blood by the Children of the Forest. That's a whole other discussion.
The most information we get about warging is from the Prologue to A Dance with Dragons. It's told from the POV of Varamyr Sixskins, a wildling who is a skinchanger and has several animals who accompany him. Varamyr's perspective shows us a bit of wildling culture and especially how warging is viewed north of the Wall. There is a way things are done and some things, such as a warg eating human flesh, are considered blasphemous.
To eat of human meat was abomination, to mate as wolf with wolf was abomination, and to seize the body of another man was the worst abomination of all.
Varamyr recalls the teachings he was given by his mentor- we don't know if all wildling skinchangers accept these precepts- but the implication is certain things are anathema. So then later in the book when Bran does some of these things, it makes one wonder... should Bran know better? Or is he excused because he's had no warg training? Are some things morally wrong even if no one has explicitly told him not to? It's telling that in one of his chapters he thinks to himself "no one must know" when he uses Hodor.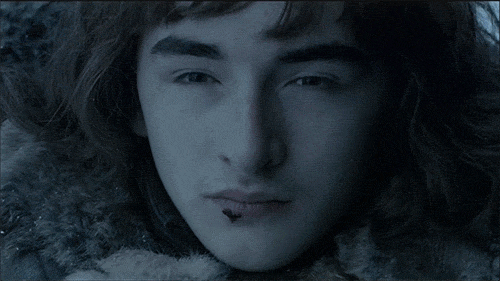 It's interesting the insights we get from Varamyr. He does note that not all skinchangers agree on everything- his mentor Haggon took him to a gathering of skinchangers once and he met others with differing views about which animals to meld with. He recalls that his bear would rage whenever he took control of him, but his wolves were much more accepting. All of this is foreshadowing for Bran's story as he makes his way through the north, and perhaps it's foreshadowing for Jon as well. After all Jon dies at the end of the book, and many speculate that he will live in his direwolf at least for a time before coming back.
So what do you think? Is Bran wrong to do these things- should he know better? Interesting that we get insights into right and wrong from Varamyr of all people, who is not a good guy, and then we see Bran doing these things! Does anyone else think the Three Eyed Crow is not exactly a good guy either (and since we know him as Bloodraven, that's not a stretch). I'd love to know what you think!

Some skins you never want to wear, boy. You won't like what you'd become.