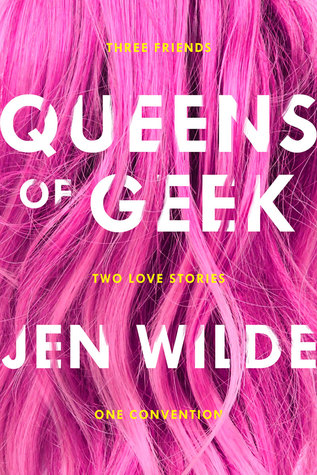 Queens of Geek is a cute story about three friends who go to a con and find love, laughs and acceptance- but not just acceptance from others. Acceptance from themselves. That's the main message of the book- to accept yourself for who you are, without apology. And it mostly works. I was attracted to this book mainly because it was set at a convention and between that and the diversity elements I was really curious how this would work out.

Charlie, Taylor and Jamie have just arrived from Australia to attend SupaCon, a huge convention (think San Diego Comic Con) and they're geeked to be there- but super nervous too. Or at least Charlie and Taylor are. Charlie is a famous vlogger and has been in an indie movie so she's a VIP guest, while Taylor is a cosplayer who wants to meet the author of her favorite books. Jamie is Taylor's best friend (as well as being the guy she's secretly in love with) and they're all looking forward to having a good time. But things don't go as planned when Charlie learns her movie co- star Reese will be there- he broke her heart after they got together on set- and Taylor misses her chance to meet Skyler Atkins, her favorite author.

Some good things happen too however. Charlie meets Alyssa Huntington, another Youtube star with a huge following, and there's an immediate attraction. At the same time Taylor and Jamie become closer as Taylor deals with her social anxiety and enters a cosplay contest in spite of it. The chapters alternate between Charlie and Taylor as they navigate their way through the convention- and their suddenly more complicated love lives!

Jen Wilde dedicates this book to the geeks and weirdos, the misfits and the outcasts, her people as she calls them- and I think anyone who has felt excluded or marginal can relate. Charlie has trouble opening up to Alyssa because of what she went through with Reese, and Taylor is on the autism spectrum and has social anxiety as well. Charlie is bisexual and Taylor has body shaming issues she deals with, so there is lots of diversity. I won't pretend I can declare it a success or failure in terms of representation but I was moved by their stories and thought it was done well.

The only issue I had were a few times where I wondered- do people really talk like this? I mean, in real life. I thought the points about diversity were almost being explained as teaching moments rather than just being who these people were (but not all of who they were)- as the story moved on that seemed to correct itself. I think the author is trying to reach out and show people they're not alone, and I respect that- it just seemed a little too on the nose initially. It definitely felt more natural and organic as it went on.