Well the big news this week was... my internet went down. For three days. I tried some things, plugged and unplugged, talked to Tech support... no dice. Then on Monday it came back up after my second call in and we did some more rebooting. Who knows? It got me thinking though- just how dependent on the internet am I? Apparently quite a bit.
Otherwise a pretty good week. It feels like March now with (slightly) warmer temps, but the big thing was- sun. Hey sun- missed you for the last few months! I read a ton while I was down so that at least was something. And I'm still watching Big Little Lies and Riverdale. Oh and Iron Fist. Speaking of- here's the GIF of the week. When Ward Meachum discovers he's being surveilled- in his own office.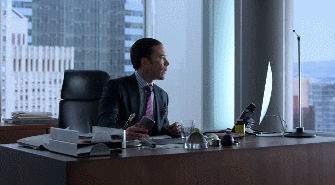 So The Wanderers was pretty good, Starfall wasn't bad and The Winter Over was chilling (!) I reviewed that one last week and this week is Distress Signals. The reviews for Wanderers, Starfall and Queens of Geek are on the way.
NEW ARRIVAL/ UPCOMING REVIEWS:
BOOKISH LINKS
Some fun with last weeks Big Little Lies.
Humans is rocking it this year.