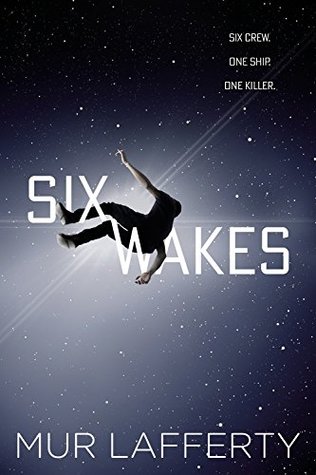 Six Wakes is one of those books. Smart writing, a killer premise, and even a little black humor. This one has it all. Six clones wake up on a generation ship but have no idea what happened to them- except that they were killed. And one of them did it. And the cloning backups were wiped, as were all relevant ship logs. So they're totally in the dark- and one of them is a killer.
And in addition to the murder mystery and the perils of surviving this also asks a lot of questions about cloning and technology and where to draw the line. In this story there have been uprisings and strife between clones and humans and society passed The Codicils, a set of laws to regulate cloning (think Asimov's Laws of Robotics). Of course not everyone plays by the rules and as time passes we learn that every crew member has secrets- in fact all six clones have a criminal past and their records were sealed so no one would know about the others. But why were criminals selected to run a ship that would be in flight for four hundred years?
The beginning of this book is killer. Maria wakes up to find the cloning bay spattered with blood and dead bodies floating around. Not only were they killed but the gravity is off and the ship is off course. The other crew member clones wake up as she does but again none of them have any idea what happened. In this world clones keep a mindmap that allows them to just be cloned again when they die, so essentially they are immortal. The ramifications of this have of course played a big role in how society has developed. And the bad news (it's all bad) is that their mindmaps have also been wiped. This new body they just woke up in- that's it.
The characters here are so interesting. The story flashes back to show what their lives were like over the last few hundred years- as clones they've had several lifetimes- and against the backdrop of the clone struggles in society we start to see pieces fall into place. Add to that a mysterious AI named IAN who is programmed to run the ship if things break down- except someone has messed with IAN too. As you can imagine the chaos is pretty widespread.
IAN has a surprisingly human personality complete with colloquialisms and sarcasm. He manages to be creepy and scary in spite of, or maybe because of, that. But it's an inverted trope, like so much here- rather than the menacing AI he's frequently funny, helpful, and... human. I liked him more than the AI in Illuminae. The only thing I wasn't crazy about was the end- how it all came together. Even though it was well done I had some issues with it, but for spoilery reasons I won't delve into that. Suffice to say this is a fantastic SF read and it asks a lot of questions about cloning, the meaning of life, the intersection of faith and technology- you can ponder some very weighty questions if you're inclined.