Growing up I read a lot of high fantasy or epic fantasy- you know, the Lord of the Rings and all the various retellings. Back then I didn't realize of course that a lot of epic fantasy was in fact a retelling of the same story with different characters and names- but at some point it became obvious. But I also read some grittier stuff- older pulp fantasy in particular. Those were nice because they were often short stories you could read quickly. But another difference was- they were earthier, immediate in their impact, and fast moving.
No tedious set up, no fellowships or elves or long quests- a tale might feature a thief or a reluctant hero, looking to survive or make a fortune or defeat evil but without dark lords and world shattering villains. Those stories were almost like an adrenaline rush of storytelling. I can't really think of examples today, although the closest may be A Song of Ice and Fire by George RR Martin.
ASoIaF has ruined me for most epic fantasy. After finishing that series (and even before, but especially since) I have very little patience for books with magic everywhere, gods walking the earth and fireballs all over. I need my magic to be lower key, more restrained. Otherwise it's like I'm reading Dragonlance all over again (and no offense intended to anyone who likes Dragonlance- I like it too but it's not my go-to anymore). Magic should be in the background or come with a cost, should tax the user and never be undertaken lightly. It should be unpredictable and dangerous to the user as well as to the target.
Gandalf had a lot of power, but there were limits to what he could do. He couldn't just fix everything for everyone- the Ringbearer still had to his thing, Gandalf was there to help and advise. Same thing with Westeros- no one is going to just come and burn up the Others with fireballs. Sure dragons might show up and do that- but there will be a cost, it won't be easy. And think of the domino effect in Westeros since magic returned- there have been all sorts of consequences in the wake of the dragons' return. That's the kind of fantasy I like- grounded, earthier, grittier, whatever the word is.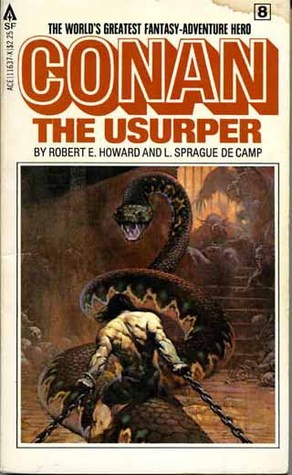 Getting back to the pulp stuff- those tales are often just
fun.
And let's talk about urban fantasy for a minute. I love the idea of paranormal creatures living among us, of vampires and werewolves in the shadows. The fae just beyond the edge of vision, an old warfare that humanity is not aware of.
Now don't get me wrong. There are times when I feel like airships and floating cities and sky pirates. But for the most part I like the grittier stuff. I'd like to see more stories with vibrancy and immediacy, set in a world of city states and sorcerers. I want to see cults and temples, depraved rituals that need to be stopped, well meaning thieves out to make a buck, a band of heroes (or anti-heroes) out to save loved ones- it doesn't have to be about saving the world, does it? Maybe saving the world a little closer to home.
Do you like grittier fantasy, and if so what do you recommend? Any favorites? Or do you prefer high fantasy?