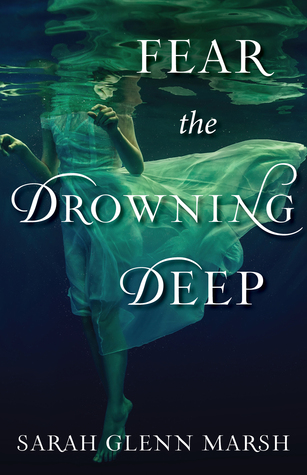 Fear The Drowning Deep is a book I wanted to read as soon as I saw the premise. A girl hates the sea after her grandfather jumped off a cliff- with a smile on his face. She believes that something called to him from the waves, but of course none believe her. And it's set on the Isle of Man. I'm in! And the nice reviews didn't hurt either. So I was pretty predisposed to like this one. And I did- maybe not quite as much as I thought I would, but it's a solid debut and it's oozing with atmosphere.
Bridey is a girl who hates and fears the sea, and the horror of what happened to her grandpa returns when a dead girl washes ashore. People start disappearing and Bridey hears strange fiddling in the night- and when a strange boy washes ashore with serious wounds she gets sucked into a harrowing situation where she may be the only one who understands the threat. There's also a witch who has a strange relationship with her mother, and Bridey goes to apprentice for the woman to help ends meet. The witch seems to know more about the sea and believes Bridey when no one else does. but it's the strange boy who takes over the story. He has no memory of who he is and Bridey decides to call him Fynn.
From there we have folklore and a chilling tale about an ancient evil that may visit the isle and doom those who go to sea. The folklore elements are pretty well researched and the author does a great job evoking the feel of a mist shrouded island in the early twentieth century. Bridey is a likable protagonist and I was impressed with her spunk and determination as she had to face down all of her terrors to do the right thing. I thought her family were convincing as well, as were the townspeople for the most part. The witch is a bit of an enigma, I wasn't quite sure about her throughout but she wasn't entirely what I expected.
The nature of the evil occurring in the waters off the island wasn't exactly what I was expecting either- I mean just by reading the blurb you have an idea what's going on, but it's spoilery to say anything other than the folklore of the area plays a role. I thought this was handled well for the most part, it's a very atmospheric story but at the same time I thought the nature of the threat could have been more ambiguous and therefore perhaps more compelling. I was actually surprised we got as much information as there was, I thought it would be more mysterious or vague, but other than that I have no real complaints. Maybe a minor issue with Fynn and his relationship with Bridey- I thought things moved a little fast there, but there is a story rationale and given the circumstances its plausible.
I also liked the supporting cast- Bridey's sisters were portrayed well and I liked Lugh, a friend of Bridey's who is perhaps more. She has a thing for Lugh before Fynn shows up, and the book flirts with a love triangle but thankfully the author handles that well and surprised me by dispensing with the usual angst before it takes over. This is a tale of mysterious creatures from myth and I think it works in lot of ways, and the setting and time period of the story only add to the mix.