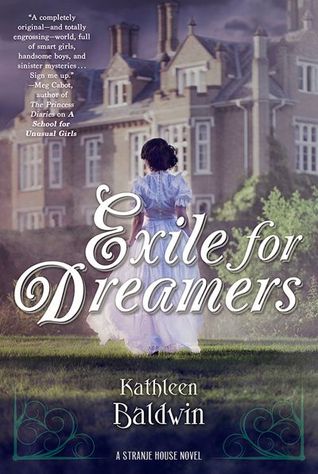 Last year I read A School For Unusual Girls and liked it a lot- the premise being a boarding school for wayward young ladies in reality is an academy training the women to be spies for the Crown. Sounds like a pretty standard YA plot, right? And it is- but the book was good and I liked that the five young women who live and train there each had their own distinct personality and skill set. The plan for this series is to showcase a different POV each time- in the first one it was Georgianna and in this one it's Tess.
Tess has prophetic dreams that terrify her- she comes from a line of women who eventually succumb to madness or tragedy due to these visions. She's afraid to sleep, terrified of what she might see. She has a lot of guilt in her past and also struggles with a forbidden attraction to a lord whose personal history is intertwined with the ladies due to events in the first book. We saw this relationship develop in Unusual Girls and here it takes center stage.
This book was very readable and I found it flew by like the first one did. This is an alternate history of sorts exploring what might have happened if Napoleon had been more successful and regained the French throne. I like how all five students bring something to the table, they all have a role to play, and unlike the first book most of the action takes place at the school, with its secret passages and sea cliffs.
The book delves into the relationship between Tess and Daneska as well. Daneska is the former student and current nemesis who now works for Napoleon. They were close before the betrayal and their scenes are handled well. The only thing I didn't like were the occasional secrets that were held from other characters- that's always a pet peeve of mine when the protagonist doesn't share valuable info. Sure it might move the plot but it's dumb, although to be fair there are good reasons for it here. And the conclusion is thrilling and builds on the setting nicely. I would definitely read the first book however before this one as all the relationships are established there