It's Monday! What Are You Reading is hosted by Book Date
Snow! We had a mini blizzard this week and as I write this it's a mess out. Slippery roads, sleet, the works. Everything is white with snow gently falling- it's actually quite peaceful, as long as you don't have to go outside. As I update this Friday night it's not much better- it's 11 degrees and the high tomorrow is 17. Yay! In other news I've been
gearing up for a couple of highly anticipated releases- the new Extinction Trials being one- so this seemed appropriate.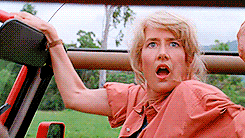 The Bookish Games (Bring Your Own Character) continue and
Day One (and Night One) ended in rather shocking fashion.
Most people reading this might be like- what Bookish Games?- so I should elaborate. It's a riff off of Mafia or Werewolf where you have two (or more) factions and the goal is to be the last ones standing. You spend a lot of time chatting and scheming and trying to deceive or outwit your fellow players, even as they attempt the same. It's all good fun. :) The current game is unique in that each player has submitted their own choice of character. The first player eliminated was playing Lying Cat from Saga.
In other news I posted a Cover Love this week and am still working on Movies That Suck. I also took a look at Nancy Drew #2- a fun comic. This week I'll have a discussion post- Do Werewolves Need A Pack? And
I won a copy of Our Chemical Hearts over at Daniela's blog. Thanks Daniela!