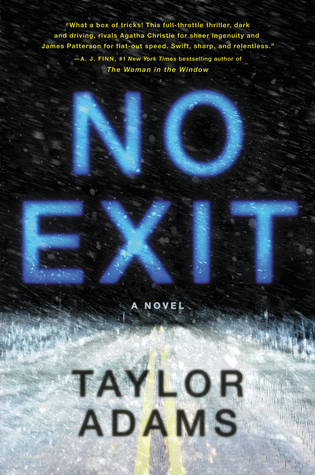 No Exit was my first read of 2019 and wow! Did it deliver. This was a solid five star for me- I was pretty much hooked from the beginning and had to race through it, literally. Darby is a college student headed home to Utah to be with her dying mom over the Christmas break- she's trying to beat the weather but it doesn't look good, she's in the mountains of Colorado and pulls over at a rest stop. She doesn't really have a choice due to the weather and has a tremendous amount of guilt that she may not make it home in time. Right off the bat we sense that things are not right between her and her mom, and she's desperate to get home and make amends.
Unfortunately that's the least of her problems as she soon discovers a child being held in a van in the parking lot. There's four people inside- but who's the kidnapper? Meanwhile a blizzard has closed the highway and the road crews aren't expected to reach them until morning. Yup, they are stuck. And one of them is a kidnapper. What happens from there is a dizzying race against time as Darby throws herself into a struggle to save a little girl- and herself- against an insidious opponent.
This novel had me on the edge of my seat. Can I just say Darby is amazing? Totally a normal person but she keeps her cool when she has to and she never gives up- I loved that about her. The kidnapper meanwhile is horrifyingly evil and yet nuanced as well- the backstory we get just adds to the horror but at the same time you get the sense that there are people like that out there- and that may be the scariest part of all. A cat and mouse game develops between the kidnapper and Darby, and to say there are twists I didn't see coming would be an understatement.
The rest area itself and the weather play a huge role as do the other people at the rest stop. And the little girl is no wilting flower either- she plays a surprisingly large role. There were a couple times I imagined maybe Darby was in the clear, but then something would happen and I'd be like noooo. This is literally a breakneck race against both time and weather, and I loved it every step of the way. I also liked that it was mostly realistic- it can be a fine line in stories like this where things can go off the rails really quick but here I felt everything worked from a realism standpoint.
The author really threw me for a loop with the ending too, and it kinda bugged me because I didn't see it coming but all in all I'm really happy with the way it turned out. This is a total thrill ride- so much suspense- and I'll probably have a book hangover after this. Not just a hangover but more like a blackout- the kind where you wake up with your face half in a puddle and can't remember the last two days. This book is a tough act to follow.