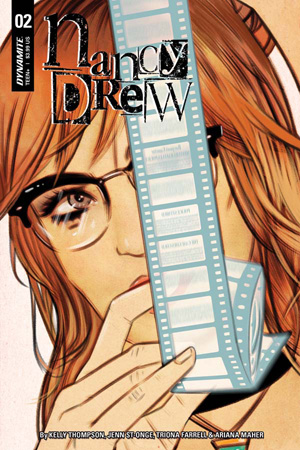 Nancy Drew #2 picks up right where issue #1 left off- with Nancy falling into a cave after the rope she's using to lower herself is cut. She's in Bayport, her hometown, investigating the caves at Deadman's Cliff with Bess and George, as well as the Hardy boys. Something in the mysterious letter she received days ago made her think of the caves, but she's hardly been in town for a day and someone is already trying to kill her! She meets Pete, a kid passing by who just happened to notice that her friends above were unconscious, so he came to help and found her in the cave.
There's a bit of an attraction there so Pete sticks around, and together with her friends and the Hardys she continues to dig. We also get a look back at seven years ago, when Nancy first explored the caves with her friends, and the tragedy that occurred to cut their explorations short. Nancy and Pete pair off intending to visit the caves again, but there are a few surprises in store and... more dead bodies!
Issue #1 was interesting enough that I came back for #2, and this one reeled me in a little more as the mystery deepens. We see a little distance has developed between Nancy and George, and when the friends can't find Nancy there's a humorous back-and-forth as they and Nancy crisscross town, passing each other in the process! Stuff like that along with the snarky humor keep this a fun, breezy story. And the discovery at the end has me anxious for the next one.