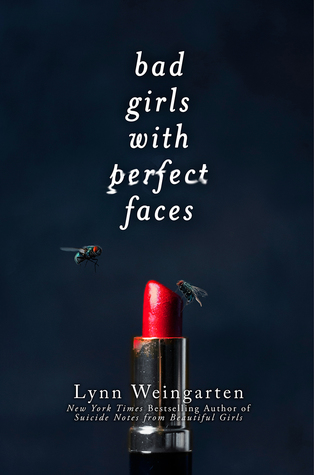 Bad Girls With Perfect Faces is so twisted. Deliciously so. I mean really, I've read a ton of thrillers in the last year, and enjoyed many of them, but in some ways this might be the most twisted one I've read. And I mean that in a very good way. Sasha is in love with her best friend Xavier, and he's probably in love with her too- he just doesn't know it yet. He thinks he's in love with Ivy, who dropped him like a hot potato and cheats on him, but when she cries or says she's sorry he melts and always comes back. She plays him like a fiddle, basically. Through it all Sasha has stood by him, and on his seventeenth birthday they're out together, he 's finally- maybe- over Ivy, and Sasha thinks their moment is coming. And then Ivy appears.
What happens after that is probably not hard to imagine. Ivy has her hooks into him again and Sasha is kind of devastated. I can't say much more as this book is, I think, best experienced without any spoilers. Suffice to say that everyone in this book makes decisions that will have enormous consequences down the road. I liked Sasha a lot- she's tough and smart, and Xavier admires her for that. They both tiptoe around the fact that they're more than just friends, and Sasha doesn't really do relationships anyway. She makes out with a guy and moves on, as she puts it, although she knows she has a thing for Xavier. But he's not available, initially. I liked him a lot too- he's just a nice guy, and is as compelling and well- written as Sasha is.
Ivy on the other hand is a piece of work, and I didn't like her. About as manipulative and nasty as they come, but even so I was shocked at some of the things that happened. This book has a twist or too that are wild, and the big one I did not see coming. I loved it though. This is a book to talk about, and I loved the relationship between Sasha and Xavier. They are so good together, even if they're not together, and I read this book in two sittings. I just had to know what was going to happen next, and the last maybe thirty percent of the book was tense and unpredictable. The only issue I really have is the ending- not what I wanted, but I get it.
If you like twisty YA thrillers with a dose of unpredictability, this is a must get.
FURTHER THOUGHTS/ SPOILERS
Okay let's talk specifics. This will be spoilery obviously. I loved that Sasha was as tough as Ivy- this is not a story about a meeker girl finding the strength to fight back. No, Sasha doesn't take any crap from anyone. Including Ivy. Go her, as far as I'm concerned. And she's willing to play rough. I LOVED how she went after Ivy with the whole texting thing- however I did find it a bit unrealistic how quickly and completely Ivy fell for it. The other thing is- Gwen turns out to be a very sick puppy lol. But the twist was killer. I found it interesting too that Gwen would have went with Sasha, as she was so taken by "Jake", and I was even more interested in the fact that Sasha felt something similar- she mentioned how Ivy made her feel less alone, which surprised me.
The game Sasha plays with "Jake" and the texting was the heart of the story, in many ways, and it's interesting that both Sasha and Gwen felt a connection. A real connection, apparently. Can you really fall in love, or make a meaningful connection, solely through texting? Certainly a theme the author seems willing to address. I think in this day and age that's a question worth considering too, especially vis a vis teens. If there's any recent YA book that could benefit from a discussion guide, this one is it. I'd love to see what teens, who let's face it live by texting, would think of this.
And how about that ending? Sasha and Xavier not being together bothered me, but maybe it's realistic? I mean, after what happened. They're both scarred in the aftermath. And the mention of someone on a message board getting close to the truth- was that a hint that Gwen was spouting off online? You can make an argument that Sasha should never have done what she did- but I'll be honest and say I loved it. I thought Ivy had it coming. But now she has to live with the guilt, and the thing I love about this book is there is no magic solution. She has to live with it. They all do.