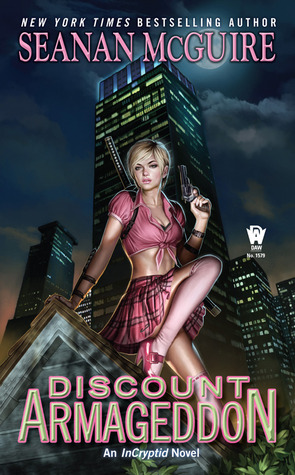 Let's talk about urban fantasy. I've wanted to branch out into UF for a while but finding the right book or series has been kinda tough. When I think of urban fantasy I think of a city at night, the moon shining down, and paranormal creatures on the prowl. Vampires versus werewolves in the heart of the city, a bar that (knowingly or unknowingly) caters to a shifter crowd, or a weakening of the barrier between our plane and the fae realms. There are so many possibilities and urban fantasy doesn't have to be all cities, right? I mean, portals to Faerie would be in the natural world and many mystical creatures would be found in wild places wouldn't they?
One thing about urban fantasy that appeals to me are the creatures. Brownies, banshees, shapechangers, merfolk- even will o' wisps, perhaps drawing someone to their doom in a lost swamp- the possibilities are endless. One of the reasons I want to try Seanan McGuire's Incryptids is because it looks like she has a lot of different creatures in them. What about vampire/ wizard hunters in the modern day
or elementals (seriously, where are the elemental books?) Know any good ones?
I've read a few books that kinda skirt the edge of urban fantasy, or share some similarities. Tides for example goes into selkie lore, and I've read some that have fae elements. But I don't think they're really UF per se. Most of these are YA books with UF elements. I've enjoyed all these to some extent, but I wonder if it's the romance element or the age group of the protagonists that distinguishes them from urban fantasy.