Top Ten Tuesday is a weekly feature hosted by
The Broke and the Bookish
. Each week a new Top Ten list will be posted. Everyone is welcome to join. Link back to The Broke and the Bookish so everyone can check out other bloggers' lists. It's a fun way to get to know fellow bloggers.
This week's topic is Top Ten Valentine's Day Reads/ OTP's/ Crushes, etc.
This topic is a Valentine's Day freebie. I thought I'd share some favorite books and also some favorite OTP's/ crushes. Oh and until recently I had no idea what an OTP was...
In no particular order...
This is a love story told in letters and set during the First World War as well as WWII. Elspeth is a poet living on the Isle of Skye in Scotland and receives a fan letter from David in America. They start a correspondence that spans years and eventually fall in love- we also meet her daughter Margaret years later who discovers a cache of old letters, the letters from David to her mom. The letters provide a clue as to where her mother has gone, as she has recently disappeared. This was a great story (and a debut novel) and was also one of my first reviews- I met the author maybe a week or two after starting my blog.
Here's an excerpt.
"As Christmas Eve turns into Christmas Day, right at the stroke of midnight, step outside and tilt your face up at the moon. Taste the snowflakes on your lips and imagine they are my lips touching yours. I will step outside at exactly the same time. I promise. No matter if I'm still in Paris or somewhere else in France, I'll close my eyes and imagine the same."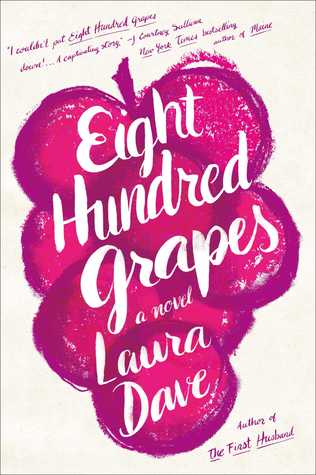 Eight Hundred Grapes would make a good Valentine's read. It's got a bit of romance and is one of those "what do I do with my life" books? There's a bit of angst and soul searching as Georgie has to come to terms with changes she didn't see coming- but it's a feel good book and I enjoyed it.
Quote:
I shook my head and whispered at Bobby, "Tell him I'm not here."
"Sure," Bobby said. "She's right here."
He handed the phone over.
I'd recommend this one as a Valentine's read since it takes place on Valentine's Day. At a book resort that is having a Valentine's event. A resort with several libraries, including a secret one with priceless literary artifacts. What's not to like?
One of my favorite films.
Another favorite movie... and since I like this movie so much, TWO clips.
This movie is awesome. And Emily Blunt is great in this.
Okay these are some of my favorite women on TV right now. We won't call them crushes... :)
Rachel Nichols of Continuum fame. Loved her as Kiera on that show, and will pretty much watch her in anything now.
Cath and Levi make a pretty good couple. Although I liked Regan a lot...