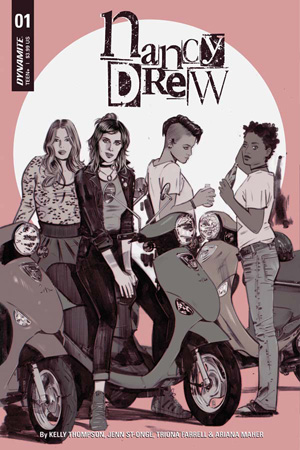 Nancy Drew #1 is a reimagining of the famous teenage sleuth written by Kelly Thompson and drawn by Jenn St-Onge. It updates Nancy for the modern day, adding a healthy dose of diversity and a breezy, snarky style that I think mostly works. It's not anything heavy or groundbreaking, but it's a good read. Nancy is in high school in River Heights, and she spends her free time crime solving apparently, just like in the books. On the anniversary of her mother's death she receives a weird letter postmarked from Bayport, her hometown. I don't remember Bayport ever being her hometown (it's where the Hardy Boys lived though) so maybe that was changed for story purposes here. Anyway Nancy heads back to Bayport, as one would I suppose, given the strangeness of the letter.
Once she's back in town she reunites with her old friends Bess and George, and after reacquainting themselves they set out to solve a mystery! Nancy suspects that the old caves on the north cliffs have something to do with the letter, for reasons she doesn't reveal yet, so off they go. They're going to have help too, as George calls the Hardy Boys in. Turns out Frank and Joe have collaborated with Nancy in the past- they're old friends. So now the cliffs- partially washed out and renamed Deadman's Cliff- await.
Nancy takes the lead, as she should, and lowers herself into a cave with her friends above manning the rope. What happens from there I won't say but to say it's a cliffhanger (ha) would be an understatement. This has all the ingredients for a fun series- the story moves, the dialogue works, you have caves and mysterious letters- it practically oozes Nancy Drew. The only real issues I had were the art- not really my style, a little too cartoonish or younger skewing maybe?- and I thought it started a little silly. It picks up as it goes though.
Just as an aside, I thought Nancy was looking pretty stylish here- thigh high boots at one point, off the shoulder sweaters. I wasn't expecting the Hardys to show up, not sure why that is but it seems to work, actually. Joe and Bess immediately make goo goo eyes at one another, so there's a subplot! All in all, this was good enough to make me come back for #2.