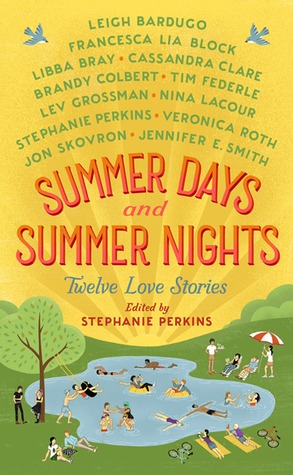 Summer Days and Summer Nights
is a book I was anxious for mainly for the cover but also because I had read the Christmas themed anthology that preceded it. And while that was hit or miss (as most anthologies are) I was very curious to see how a summer themed one would hold up. I was lucky enough to win this book in a giveaway from Shannon at
It Starts At Midnight
so I've been enjoying it for a few weeks, reading a story here and there interspersed with the other stuff I was reading. What did I think? Well, let's take a look.
There were stories in this one that didn't work for me, so I'll just share my thoughts on the stories I liked. More or less.
I thought Nina LaCour's
The End of Love
was touching, an F/F romance and an exploration of how devastating divorce can be to teens. 4 stars.
Sick Pleasure
was different, a story about growing up and being confused. Not sure how else to word it. About life, love and being a teen, regrets and consequences. Not exactly bright and cheery, but interesting. 3 stars.
In Ninety Minutes, Turn North
was a revisit to two characters from the Christmas edition. It picks up the summer after the events in the Christmas story with Marigold coming home from college to see North. Their relationship has changed and while I was unsure of this one at first, I liked it a lot better as it went; Great ending. 4 stars.
Inertia
by Veronica Roth I was very curious to see what Roth was up to after the Divergent series, and I'm happy to report that this was solid. Granted it's just a short story, but she seems to be doing fine and after some hesitation initially I got into this story as it progressed. It's about hope- both lost and found- and while on one hand I thought it was trying a little too hard to be message-y, it was a good message. Hope usually is. 4 stars.
Love Is The Last Resort
by Jon Skovron might be my favorite of the stories. It's about an upscale resort and the intertwined love lives (or lack thereof) of various employees- primarily Lena (who I thought was great) and Arlo the new hire. Arlo's kind of a player but he meets his match in Lena, and together they discover there's a whole lot of love going on at the resort- or would be if people would just get together! Funny and smart- and a hedge maze. The only thing is it's ridiculously rushed at the end- this might have made a fun full length book- but I had a lot of fun with this one.
So on balance there were four or five stories here I really liked and the rest were okay or meh. Lev Grossman's
The List of Tiny Perfect Things
was nice too, about two people who live the same day over and over after time stops, but they're the only ones conscious of it- it was different but not bad. Touching at the very end and a nice way to close out the anthology. As with most short story collections I found it varying in quality, but there are a few gems here.