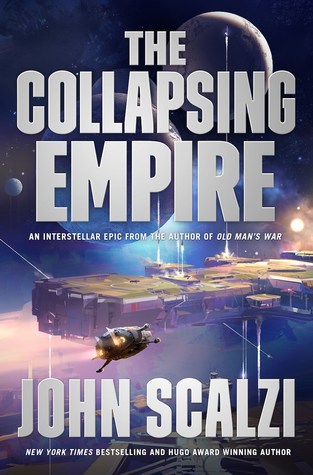 The Collapsing Empire was such a pleasant surprise. After a gripping prologue and then a first few chapters that didn't really grab me, I settled in with this and loved it. There are three POV's here- Kiva Lagos who is the scion of a merchant house, Cardenia who becomes Emperox of known space after her father dies, and Marce Claremont who is one of the few people alive who knows that space as they know it is about to change forever. The premise here is that the Flow streams that allow humanity to travel the stars are collapsing, and when they do the human systems will be cut off from each other. Permanently.
Making matters worse is the fact that the current system gives each mercantile House a monopoly, so when colonies are cut off they are going to be drastically unprepared to be self sufficient. The fact of this is not lost on the few people who know this is coming, so you have a race to not only warn people but also the machinations of rival Houses who want to use this for their own ends. Kiva gets involved in this purely by accident when her and Marce's paths cross, while Cardenia becomes aware of this after taking over as Emperox and learning that her father knew all about it, and was in fact subsidizing research to verify it. The three of them become crucial to each other as the plot progresses and the scope of the conspiracy to hide things becomes clear.
This is a funny book as well as being an awesome space opera. I'd never read a Scalzi book before and I'm not even sure why I tried this one- it was completely a lark. Like I mentioned earlier the prologue was fantastic, and that sealed the deal. Then I was a little unimpressed by the first few chapters, but that changed fairly quick. I stuck with it and I'm so glad I did. I liked all three POV's and even the villains are grudgingly likable at times. Scalzi has a wry narrative voice and writes in such a way that he had me laughing at times even in the midst of peril.
Kiva in particular is a hoot. She's not necessarily a bad person but she's not exactly good either- she's loyal to her people but can be ruthless as well. Although once you get to know the various Houses that's not necessarily a bad thing, I guess, not if you're interested in surviving. Her and Marce made a pretty good team. And again the humor here is key. Scalzi has a way at times of almost breaking the fourth wall, of talking directly to the reader that makes for a very conversational tone. It's refreshing and different from other authors that I've read, but in a good way.
So I would say this is one of the better science fiction books I've read lately. The humor, the tone, backstabbing and dog-eat-dog nature of this universe had me skimming through the pages and laughing numerous times. I would caution that there are a lot of f- bombs in this one, so if that's not your thing just a heads- up. But otherwise I would definitely recommend this and I had an absolute blast with it.