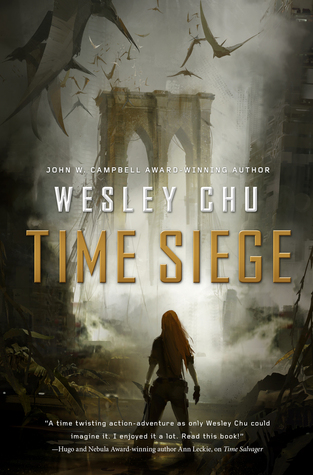 Time Siege picks up where Time Salvager, the first book, left off. James Griffin-Mars is a fugitive time traveler on the run with Elise, the woman he brought to the future in the last book, and the tribe of refugees they've been sheltering with. Six months or so have passed and the tribe is slowly running out of resources. James and Elise have managed to keep them safe but there are constant skirmishes with the time agency and megacorporation forces hunting them. James meanwhile is cobbling together a ship so he can get offplanet and try to get resources and a cure for his sister.
Quick recap: in book one James left the time agency after breaking a cardinal law- he brought someone back from the past, saving her life in the process. He and Elise fell in love on the run and they're trying to survive on a desolate Earth in the 24th century- the planet is wracked with monster storms, rising sea levels and environmental degradation. Most everyone who can leave has, and the remaining inhabitants live in a state of fear or are just surviving. James has been haunted by the disappearance of his sister twenty year ago, and the book ends with him going back in time and rescuing her as well.
James has managed to keep things going but things look rough for the tribe and for his sister. James and Elise split up, with James heading off to find resources and Elise leading the tribe. At the same time they are being hunted by Kuo, the ruthless Corporation operative who has been ordered to retrieve Elise at any cost. The megacorporation wants her for unknown reasons. James and Elise are reunited as the tribe takes refuge in a flooded out New York City, but the megacorp is closing in and things get dire. James is also an alcoholic and that, along with the wear and tear on his body from years of time jumping, begin to take their toll.
There are several viewpoints here- we get the perspectives of James and Elise as well as Levin, the former nemesis of James who is now an uneasy ally. He becomes absolutely critical as the future of the time agency that he and James both belonged to appears to be in doubt. This is a world where megacorporations rule with an iron fist and a time agency that is supposed to be neutral is riven with dissension.
James and Elise go through relationship challenges and have to come to terms with their leadership roles in the tribe- it's not just about them anymore. As the story progressed and the stakes got higher I got sucked in and enjoyed it a lot more. I liked the depictions of the world, with flooded cities and wind so polluted you can actually see it, and there's a lot of imagination as we visit offworld locations. My biggest peeve is the villain Kuo- she just seems so one dimensional. Is it too much to ask to have
some
nuance? But having said that, this is an imaginative story with some great characters- if you like dystopian worlds with flawed, grounded characters this is a good read.