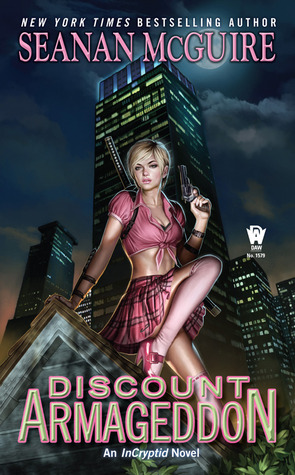 Discount Armageddon
is a book I've wanted to read for a while, mainly due to the cover and the premise. The idea of supernatural creatures living among us has always appealed to me, and with wanting to try more urban fantasy this seemed like a good place to start. So I gave this one a try and I'm glad I did. Verity Price is a ballroom dancer and a cryptozoologist- someone who studies cryptids or supernatural beings. She does the former because she loves it and the latter because it's the family business. They broke off from a group called The Covenant years ago and live on the west coast, but Verity is in Manhattan auditioning for dance competitions and patrolling the night in her off hours.
Verity practices free running and uses it to run the rooftops of Manhattan, and she also works at a strip club populated by cryptids. She knows most of the cryptid population but when women start disappearing in the city and a Covenant hunter shows up, she knows something's up. Dominic De Luca is the hunter and doesn't take to Verity at first- his order considers her family traitors, but when they have to join forces of course the sparks fly.
I liked Verity and Dominic a lot- he's kind of the straight man to her snark. She's attracted to him even though she thinks she can kick his ass, and their relationship is a lot of fun. They constantly have weapons hidden on their person and it's fun seeing them try to outmaneuver the other. Plus the side character Sarah is awesome- she's a cryptid telepath who is also Ver's cousin, and her powers come in handy several times. I'd like to see more of her. And I have to mention the mice- yes Ver has a mouse population in her apartment, but these mice worship her as their priestess and are constantly dragging her into their religious observations. Hilarious.
The book started a little bit slow for me and it took a little while for it to build up steam. I liked the cryptids living in Manhattan angle but there were almost too many- with something like this I think less is more. Still there was a nice range of creatures- we get nagas, gorgons and harpies, among others. Also the tone is pretty snarky throughout, so if you like that you'll love this, but if you like your narrative a little more serious it may wear on you after a while. Just depends what kind of urban fantasy you like I guess.
I liked it- not perfect, but intriguing enough I'll definitely continue with the series.