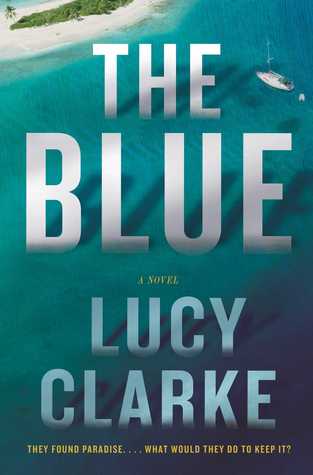 The Blue by Lucy Clarke is a fascinating tale of two young girls from England- Lana and Kitty- who are in the Philippines when they come across a yacht called the Blue. The crew are a bunch of free spirits, and after meeting and getting drunk with them one night, they find themselves aboard. Shaking off hangovers, they get to know the crew better and discover that the Blue and her crew sail from Australia to Fiji and all points in between. Everyone keeps their past to themselves for the most part. New crew members are voted in or out by the existing crew, and when Lana and Kitty decide to join they are welcomed aboard.
Lana and Kitty have reasons to escape. Lana
in particular has deep seated reasons for fleeing her home, and her and Kitty have been inseparable for years- best friends. The crew votes on where they stop and one of the few rules is that no relationships are permitted between crew members. They spend their time anchoring in secluded lagoons, drinking under the stars and living by their own lights. It's idyllic and romantic and Lana and Kitty feel like they've never been happier. But it soon becomes clear that everyone aboard has secrets- and when someone dies, those secrets threaten to tear the group apart.
I picked this one up based solely on the cover, and the synopsis didn't hurt either. This is told in both the past and the present- we get current events mixed with the events of eight months ago, and slowly the secrets and lies are revealed. Lana
finds the rule about "no relationships" hard to observe, and you're never quite sure who is telling the truth and who has something to hide. Lana and Kitty find their loyalties tested, and there are several surprises, including not one but two big twists at the end that I didn't see coming. I enjoyed the little details of life on the yacht, and the descriptions of the islands and locations were so vivid.
Who hasn't wanted at some point to get away from it all and live for the day? This is a great mystery and summer read and I'll be looking for more by this author. Her other books do seem to explore the same themes-the power and challenges of friendship, alienation- and I look forward to exploring those as well. This one was a lot of fun.