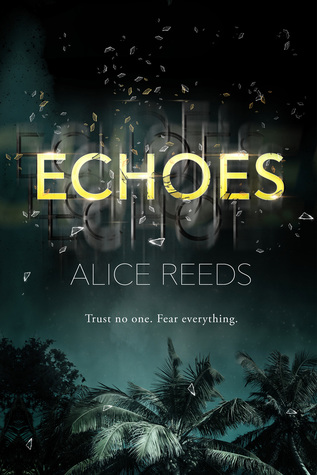 Echoes is a book I approached with some trepidation, having heard mixed things about the ending and the rationale behind the story. I needn't have worried. This story totally worked for me, although throughout my reading of it I kept thinking that this had better make sense by the end! Well, it did- mostly. It's kind of a gutsy way to write a book- I mean this won't work for everyone, but if you just go with it and enjoy the ride, I think it's definitely worth taking.
The other thing about this is- it's definitely a romance. Fiona and Miles wake up after a plane crash on a remote island, the only survivors, but they soon find that there's more to the island than they initially realize. At the same time they are also in Berlin, on a completely different story track, and the story thus shifts from chapter to chapter, from the island to Germany. What's the deal? Did the stuff in Germany happen before the island? Well, you gotta wait to find out! But as tense and fast moving as the narrative is, a lot of time is spent on the relationship between Fiona and Miles.
Fiona is a kickboxer and comes from a family of modest means, whereas Miles is super rich. He's a bit of an arrogant jerk too, or so we're told- in actuality he's not bad in the story, as he and Fiona begin to reassess their relationship in light of the fact that they're stranded on an island/ on the run in Berlin. Are these alternate realities, or just time displaced events? That's part of the fun too- seeing how their relationship develops in two separate storylines. I thought that the relationship worked, and in spite of the fact that they talk a lot about their relationship, and the author spends a lot of time developing it, the action still keeps the plot moving.
It's a neat balancing act and frankly I loved how realistic it felt. The story is told from Fiona's viewpoint and she has to struggle with how much she can trust him at first- after all, she's told early on she can trust no one, and yet Miles seems to come through. I kept wondering if there would be an ultimate betrayal and I loved the uncertainty. And speaking of the ending- wow. Now that's an ending. I had heard the ending was ambiguous or unsatisfying, and while I can sorta see that, I thought it worked. In fact it makes me want a sequel like right now. And again, it's kind of a gutsy way to end a book?
So yeah I had fun with it. It's kind of crazy how you don't know what's going on most of the time- I mean I had a zillion theories- and it still managed to surprise me at the end. I love stories where people are not always what they seem, and there are surprising developments, and this one totally delivered. I can say with confidence I will be looking at anything else Alice Reeds writes.