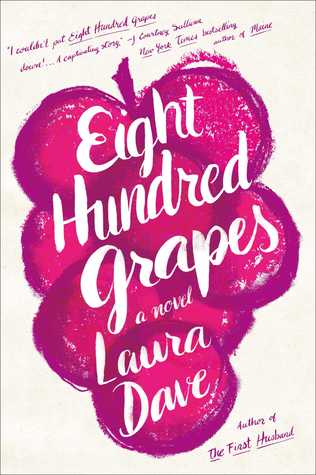 Eight Hundred grapes is a story about the choices we make in life. Georgia Ford is an attorney who is about to get married- but when she learns her fiance has a secret she heads home to Sonoma County and her parents' house. Her dad is a winemaker with a small vineyard, and she has come home to get her thoughts together. But she soon finds that not everything is rosy at home, and that some of her family have secrets of their own.
I liked this book a lot. Georgia and her brothers, Finn and Bobby, grew up around the vineyard- their dad practices biodynamic winemaking. Sonoma County and the nearby Napa Valley are presented in a convincing way- the vineyards, with early morning fog and then the sun burning it off, the wine culture of the area- are a highlight of the book. Finn and Bobby have their own issues, and the reader- and Georgia- soon learn everyone is a mess! Georgia has to decide if she wants to go ahead with her wedding, and their subsequent planned move to London. As she learns more about her fiance Ben, and the secrets he's been keeping, she realizes that there may be no right or wrong choices- there are just different paths, and of course it's not always clear which one is best.
The family dynamics are fun, and I can see this as a fun movie (and it has been optioned, so maybe we'll get a chance to see it). Georgia has a hard time deciding what she wants, but when she finds her father's way of life threatened that adds another complication to her thoughts. And of course Ben shows up, making things even more fun. The story plays out over a few days at the family home, and I really enjoyed getting to know the family members and their spouses. Choices are made and there are laughs along with the tears- and I did enjoy the humor, as well as a few twists that happened that kept the pace flowing. This was a good story about second chances, choices and the consequences of decisions- and about family too. Oh, and wine! A great go along with a fire and a glass of wine, if you're so inclined.