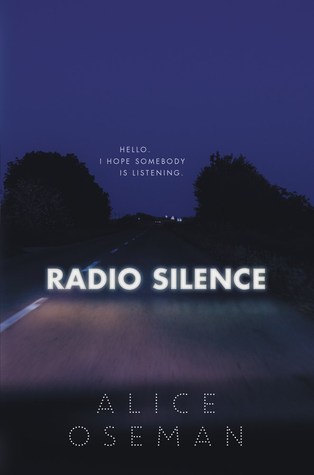 Radio Silence was an amazing read. There was something about it that appealed to me (other than the neat cover) and I'm so glad I gave this one a shot. Frances is a British/ Ethiopian student who is the best in her class and destined for Cambridge- she pretty much lives to study. A study machine, she calls herself. But she also loves a podcast called Universe City, and when she meets Aled Last, the shy kid behind the podcast, it changes her life. They become fast friends and she starts to realize there is more to her than studying. She has always groomed herself for success, as it is defined by society- study hard, get into a top school, make lots of money. But what if that's not what she really wants?

I think anyone who has agonized over their major or what to do with their life can relate to this story. Frances is also bisexual and Aled is possibly asexual- their relationship with each other is strictly platonic which was kind of refreshing. Even though they go through a lot they don't fall in love- their relationship issues are the issues friends might go through. So Frances and Aled are figuring out who they are but also who they want to be. And it's an awesome journey.

The problems arise when the podcast goes viral and all of a sudden it's super popular. Aled desperately wants to remain anonymous and sparks soon fly between the two of them. Complicating matters is the previous friendship Frances had with Aled's sister Carys. They were sort of unlikely friends and something happened between them just before Carys ran away, and no one knows where she went. Frances carries a lot of guilt around over it, thinking that she is responsible for Carys leaving, but her and Aled don't talk about it. It's probably not a surprise that the subject will come up however.

I thought this was so well done. Frances really captured my attention from the outset, and I loved her relationship with Aled and her mom as well. It was nice to see a teen protagonist have a healthy relationship with her mother- they sit around and order pizza and watch movies. In fact instead of the stereotypical parent relentlessly pushing her daughter to succeed, she's actually more easygoing than Frances is about it. I think her mom understood Frances more than Frances understood itself. And the relationship with Aled was complex- he's so quiet, so inward, that even though they have a great rapport she still doesn't really know what's driving him.

The chapters here are really short and I could barely put this one down. Frances has a somewhat snarky tone, especially in the beginning, and I loved her voice. Her friends mostly know her as a study machine but one in particular steps up later in the story and I loved it. I pretty much loved everything about this book, if there is one negative it might be that I thought Aled laid the drama on pretty thick. But he has a lot of problems and you can kind of overlook it. This is a story about fandoms but it's also a story about what you want in life. Have you ever questioned your life goals, or been unsure what you want? Who you are? If so you can probably relate to this one. The message here is be who you are- and it's one of my favorite reads of the year.