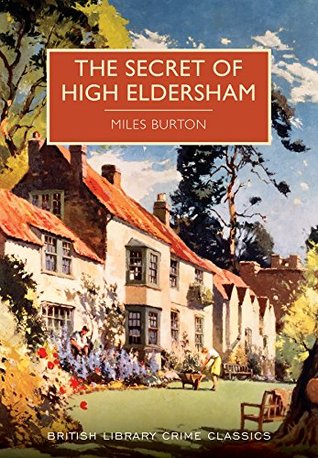 Okay that was not what I was expecting! Especially with that cover. As with many of the British Crime Classics series the cover is an idyllic look at country life in a bygone era- a lot of the covers for the series are re-purposed 1930's travel posters- but this book is anything but idyllic. It's quite dark at times and I loved it. And it's also an excellent mystery novel, first published in 1930 and now back in print thanks to the Crime Classics series.
A murder occurs in sleepy little High Eldersham, a village in East Anglia with a reputation for not welcoming strangers. Detective- Inspector Young is called in from Scotland Yard to oversee the investigation, and as he does so he begins to realize that something is not right in this little village. There's an atmosphere of dread, almost, and Young at first thinks he's imagining things, but before long he calls in an old friend with experience in lots of different matters. Desmond Merrion (who would go on to star in dozens of books by the author) accepts the call and begins to dig deeper into the secrets of this sleepy little village.
What he finds turns out to be horrific, and Young's suspicion of supernatural happenings is borne out. But surely there can't be a paranormal explanation for the murder? Well it's hard to say but something is definitely going on in town, and it's not good. Along the way Merrion meets an old friend in town and becomes smitten with the daughter of the local magistrate, who's a bit of a free spirit and immediately captures his heart.
This book has a curious structure in that the perspective changes from Young to Merrion at intervals, but also checks in with various bit players, such as the constable who finds the body and various others. It didn't bother me but was an interesting way to tell the story. All through the book there's a question as to whether the supernatural element is responsible for the crime, and I won't give that away. Suffice to say that things get very dicey the deeper Merrion goes, and I was surprised how dark, almost lurid, the story got towards the end. Again this is not a complaint. This story just oozes atmosphere at times.
It also reads quickly, or at least it did for me. And with many books from the era you often encounter disquieting reminders that it was a different time, with sometimes disturbing social views, but I'm happy to report there really wasn't much of that here, other than two exceptions. First there is definitely an element of class consciousness, which is completely appropriate for the era, but there are a few descriptions of country folks as bumpkins, for want of a better word. And there's one line about drug addicts that was a little shocking by today's standards, but other than that I didn't find anything objectionable.
There's also a bit of insta-love, which is also not unknown in older novels, as Merrion falls very quickly for Mavis Owerton, the daughter of the local aristocrat. Does Mavis know about the sinister doings in High Eldersham? That's part of the delicious mystery, and Merrion may find his loyalties tested!
There's a lot happening in this book- smuggling, witchcraft, not to mention the crime that precipitates everything. I thoroughly enjoyed this story and truly did not know what would happen next. A few things might have been a little predictable, and there's a coincidence towards the end that I didn't care for, but this book more than makes up for it with atmosphere and a sense of is that really happening? I couldn't put it down.