I love sea monsters. Just imagine you are sailing on a crystal clear sea, or perhaps things are getting rough and the salt spray drenches you as the waves grow higher- and suddenly there is a cry from the lookout. "Kraken!" The word every sailor in a fantasy world fears most. And you mouth a prayer as the tentacles begin to rise...
One of the more chilling moments in Fire and Blood by George RR Martin concerns a kraken rising from the deep.
"The waves rose higher than our masts, and there was thunder all around, and lightning such as I had never seen before, great cracking bolts that burned the eyes. One struck the Autumn Moon and split her mast from the crow's nest down to the deck. In the midst of all that madness, one of my hands screamed that he had seen arms rising from the water, the last thing any captain needs to hear."
"I saw the Autumn Moon founder with my own eyes. One moment she was there, broken and burning, but there. Then a wave rose up and swallowed her and I blinked and she was gone, quick as that. That was all it was, a wave, a monster of a wave, but all my men were screaming 'Kraken, kraken!' and not a word I said would ever disabuse them."
"To a man, they were convinced they had seen a giant kraken pull Autumn Moon beneath the sea. Had I given the command to sail on, they would have fed me to the waves and found another captain."
Or they can be, you know, kinda silly.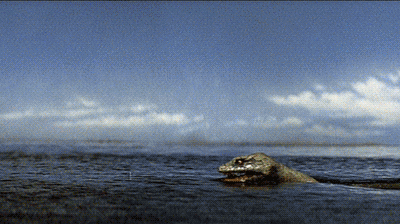 These are some of my favorite covers with sea monsters.
Easily my favorite- I love the leaden skies, the gray water, and of course the sinuous coils of the serpent.
Does a T-rex count? I don't know.
And because comics are books too (sort of)