I was tagged by Ceri at
Bookmarks and Postcards
for the Bookshelf Tag (thanks Ceri!!!) and this one was lots of fun. What's not to like about bookshelves? The tag was created by
awanderingmind
over at Youtube. So... let's talk bookshelves!
1) How many bookshelves do you have?
Right now just one! I used to have boxes of books I'd collected from used book stores or whatever, but I lost a lot of those back in college. Now I just have the one bookcase although there are books scattered around the house as well!
2) How many books are on your bookshelves? Or how many books do you think you have?
Golly I don't know and I'm way too lazy to count 'em all, but I will guesstimate a hundred or so. Physical books. I have 256 on my Kindle.
3) How do you organize your books?
I normally organize by author but other than that there's not a lot of rhyme or reason to it. I mean I keep hardcovers together and so on naturally, but that's about all. However I've been mulling the idea of organizing by color, but wasn't sure I had enough physical books to do it since a lot of things are on my Kindle. So we'll see what happens.
4) What is the oldest book on your bookshelf?
I have a copy of
The Robe
from 1942. The copy I have has been handed down through the family. Also I acquired a nice version of Children's Classics Robin Hood a few years ago on vacation from a store that had it on display and agreed to sell- it has nice illustrations and is from 1924
but it's also copyrighted 1957 and 1961, so I'm not sure when the version I have actually came out.
So... yeah.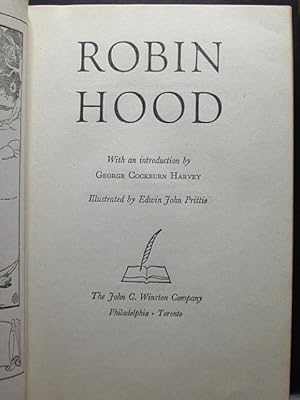 5) What is the newest book on your shelf?
Bring Me Their Hearts


6) What is the longest book on your bookshelf?
I think The Count of Monte Cristo takes that honor. It was probably between this and A Dance With Dragons.
7) What is the shortest book on your bookshelf?
Probably Planet of Exile by Ursula K. LeGuin. I thought it might be All Systems Red (the first Murderbot) but no, Exile has fewer pages. Which is amazing to me, given the story it tells.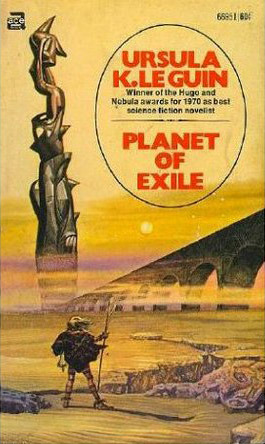 8) What is the predominant genre on your bookshelf?
That's a tough one! I normally consider fantasy/ SF as my go-to genres, but I read a lot of contemporary YA and psychological thrillers/ mysteries now too, so I had to sort of look. :)
On the shelf I would say SF wins, followed closely by fantasy. On my Kindle though it's SF by a country mile, followed closely by the psychological thrillers. Fantasy is a very distant third, which surprises me- and also shows how little fantasy I've been reading, given that most of my purchases lately are by Kindle.
9) Have you done a bookshelf tour?
I have not! Once I have more shelves and have things more the way I want 'em, I will.
10) Go on a random number generator and talk about the book that corresponds with that number.
So I used Random.org. and got 79. Now I gotta count! I came up with...
Refuge for Masterminds
by Kathleen Baldwin. #3 in the School for Unusual Girls series. I'm a big fan of this series- each book focuses on a different girl- and they're amazing.
11) Do you have fan merch or any other decorations on your bookshelf?
Jyn Erso stands guard and I have a few other things I rotate in and out, but mostly it's just books?
12) Show us your bookshelf!!!
I was playing around today and decided to color coordinate a little. Something I don't normally do.
The bottom shelf is mostly Marvel stuff, along with other graphic novels and trade paperbacks- there's some Peanuts stuff, my Tintin's, and whatever else.
And... tag somebody!!!
I tag- YOU! If you want to do this one!!