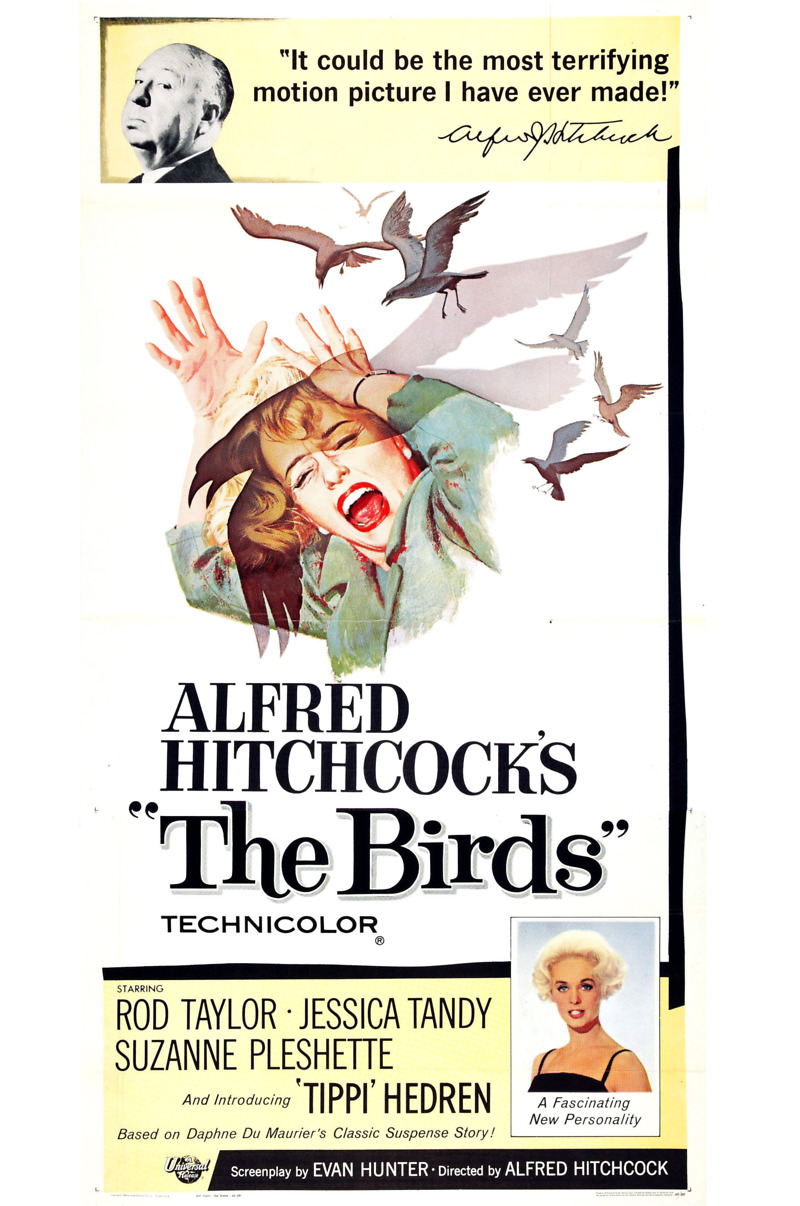 Movies That Suck is a feature where I watch a bad movie and share my reactions to it in real time. Sort of like live tweeting without the tweeting. I watch it so you don't have to! This will be spoilery I guess by definition, but since you probably won't want to watch these anyway it probably won't matter? But heads up anyways. So get comfortable, grab a favorite beverage, and let me tell you about a movie.
This week we're looking at The Birds by Alfred Hitchcock. This is definitely the first classic movie I've watched for this feature, and I have seen it before, but it's been a while. And I have not read the story it's based on, although I'm told it differs considerably. I am a fan of Hitchcock though, and this probably won't be the last of his movies I examine here, but for today- let's watch some bird carnage.
This one starts with birds squawking and generally going apeshit while the opening credits roll, and I love how it's almost like the credits are being "attacked", with the letters getting shredded a bit. Nice touch. And right off the bat we know the birds are not going to play nice. We then see Melanie Daniels (Tippi Hedren) crossing a street and going into a pet store. And who walks out as she enters? Why, Alfred Hitchcock of course, in a cameo! Melanie is there to pick up a bird she has ordered, and the rather sketchy woman at the counter is a little flummoxed as the bird hasn't arrived yet. In walks a dapper Mitch Brenner (Rod Daniels) who is looking for lovebirds, as a gift, and mistakes Melanie for someone who works there. With a coy smile she plays along but is quickly in over her head as she knows nothing about birds, something Mitch seems to suss out rather quickly. Melanie's a flirty little thing by the way.
Melanie tries to show Mitch a canary, which gets loose, and he admits he knew who she was at the outset. He is a lawyer and saw her in court- she's apparently quite the practical joker, and one of her jokes went a little too far?- and they spar a bit before he takes his leave. Sexual tension, can we say? Melanie takes his license plate number, so she's clearly interested. And she decides to buy some lovebirds to surprise him, but when she goes to deliver them, he's not home. He goes to Bodega Bay every weekend, apparently, so off she goes. Clearly she's very interested!
Nice shot of the coastal highway. And she drives kinda fast, squealing her tires around every corner. We're getting the gist that she's a free spirit? So in Bodega Bay she asks around about Mitch and is soon on her way. She meets the local schoolteacher (Suzanne Pleshette) and they have a nice catty conversation about Mitch- he must be quite the catch? She then crosses the bay in an outboard and sneaks into Mitch's house (!) to drop off the birds. He sees her and smiles- clearly he doesn't mind- and races off to town to intercept her as she returns her boat. And then this happens.
Crazy gulls. So Mitch is fixing her up at the Tides restaurant and they're soon flirting away again. Oh and she lies like a rug! She tells him her and Annie (the schoolteacher) are old friends, to which he smiles- clearly he knows better than that- and Mitch's mom shows up. It's Jessica Tandy! She does not seem too impressed with hotshot Melanie, and is on to her pretty quickly. Between Annie and Lydia Brenner (Tandy), it doesn't appear the other women in this film like Melanie much! Anyway Mitch invites her to dinner, which Lydia doesn't seem to care for, and at dinner we meet his sister Cathy (Veronica Cartwright). She's a trip. I love her line about her big brother's legal work, saying most of the people he knows in San Francisco are hoods.
"He has a client now who shot his wife in the head six times. Six times! Can you imagine it? I mean, even twice would be overdoing it, don't you think?"
Oh and we find out that Melanie is a wild child! Lydia helpfully informs us that Melanie jumped into a fountain in Rome the previous summer- while naked- so she's a gossip target for sure. No wonder everyone gives her the side-eye. Things get a little heated though at the end of the night, when Mitch mentions the fountain incident- Melanie admits she's been lying to him, and he wants to see her again but now she's pissed- rather sensitive about the gossip stuff. They have a tense relationship so far. But then we have a wonderful scene back at Annie's where we learn (not surprisingly) that Annie had a previous relationship with Mitch. It didn't work out in part due to Lydia. This might be one of my favorite scenes of the movie, especially when Mitch calls and Annie can hear the conversation. Annie and Melanie kinda like each other, I think, in spite of being mixed up with the same guy. Oh, and a gull hits Annie's door, killing itself, I suppose, to remind us this is about the birds and not just Melanie's love life.
The next day Melanie is at Cathy's birthday party and the gulls attack! About time. Poor kids- way to ruin a good party. And later that night they're at it again, coming into the Brenner house through the fireplace. The local sheriff of course is skeptical, because of course. And the next day Lydia discovers a friend dead in his farmhouse- with his eyes pecked out! Eww. She freaks, understandably, and it looks like Melanie is sticking around a while to help out. Oh, and Mitch kisses her. Say what you want, but a bird apocalypse is one way to bring people together.
So Melanie and Lydia bond a bit, and Melanie goes to get Cathy because Lydia can't stop worrying. Before long the town is all abuzz and they're debating whether birds can really attack people, when some loony in the restaurant proclaims the end of the world. Mitch is trying to convince one of the fishermen when this happens.
I love the overhead shot with the gulls.
One of the women in the restaurant blames the attacks on Melanie, saying it all started when she arrived. Ooh fun angle. And oh shit- Annie's dead. That shocked me! I liked her! But Cathy's alright and they get her out. It's time to fortify the house and hunker down- the birds are massing again- and at night the birds attack. This time they're smashing through windows and the whole nine yards. They're pecking through the door even, and while Mitch is trying to keep them out the power goes out.
The birds then leave. Everyone falls asleep, exhausted, except Melanie, who hears flapping noises. Uh- huh. She goes to investigate by herself, because of course, and guess what? They've gotten in through the roof, and they go to work on poor Melanie. She can't get out but thankfully Mitch and Lydia get her. These birds are crazy. She needs a hospital, though, so Mitch and Lydia are like we gotta go. Mitch opens the front door, to get the car, and there are birds. Everywhere. They manage to get to the car though and slowly drive away. I'd run a few over myself. And Mitch hears on the radio that the attacks seem centered on Bodega Bay. I wonder why?
The best thing about The Birds? We never find out what made them go crazy, or what happens next. It's up to the imagination, folks... which is vintage Hitchcock.
So... this movie rocks. I think Tippi Hedren and Rod Daniels worked off each other very well, and their chemistry makes even the mundane parts of the movie work. I read too that the scene towards the end where Melanie gets attacked took a week to film, and afterwards Hedren was hospitalized for exhaustion, due to the rigors of the shoot.