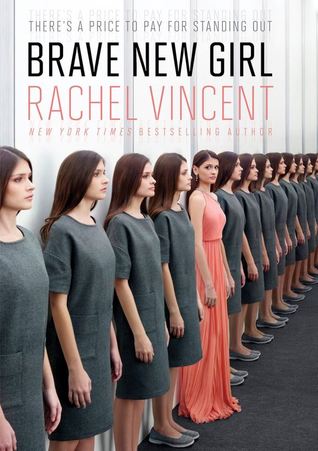 Brave New Girl is a YA dystopian (are they still writing those?) about a girl- Dahlia 16- who is a clone. One of many. The society she lives in genetically engineers everyone- having babies is apparently obsolete- and Dahlia is a hydroponic gardener, grown for just that task. Her group exists to be gardeners- and other than some recreation they really don't do anything else. They don't have any rights and are not allowed to indulge any interests, and they don't question this because they're engineered and trained to obey, not question.
The problem arises when Dahlia gets stuck in an elevator with Trigger 17, an elite defense cadet who *gasp* speaks to her. They're not allowed to communicate with other groups, so she's scandalized, but they have an hour alone in a defective elevator so he tries to draw her out. She discovers that as a defense cadet he has more freedom than she does, and slowly she starts to question her worldview. It's hard though because she's literally never done anything- and has never felt attraction before. As you can probably guess that changes with Trigger 17!
This was a pretty solid YA dystopian. It didn't blow me away at first but as I got into it I liked it more and more. It picks up some momentum as it goes, and I liked that Trigger 17 wasn't the usual bad boy. He's actually being groomed for leadership, although that goes out the window when he and Dahlia decide to hoof it. It kind of reminded me of Divergent in the sense that Dahlia has no idea what is outside the compound- all she knows is inside. Trigger has been out though on patrols and he tells her a little. Their relationship seems mostly realistic, he's definitely a risk- taker and she is not, but that changes as it goes along and she discovers some things about her background.
I liked the sense of mystery and I'm always predisposed to like a cloning story if it's done well. I did think it a bit unrealistic that she didn't question things a little more, but we sort of get an explanation for that- it appears the clones are literally engineered to not question. The fact that she does is of course part of the mysteriousness. So the science is iffy, and if you've read a lot of YA dystopian this may seem familiar, but I still liked it. There are some twists at the end that were welcome as it expands the story, and there's a cliffhanger ending- it didn't really bother me though, and instead made me anxious for the next book!
All is not as it seems in this world, and I thought the worldbuilding was mostly solid. I'm not entirely convinced by the society she's building here, but I am invested enough to keep reading. It took me a couple chapters to get involved but once I did it was off to the races. I enjoyed this a lot.