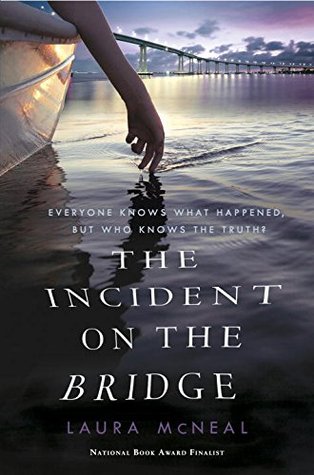 This book first got my attention due to the cover, to be honest. And the premise appealed to me as well- a situation where something happened on a bridge but no one knows for sure what. I love mysteries like that so I was hopeful for this one. I saw some mixed reviews however so I was wary as well- one of the complaints I saw was that you find out early on what actually happened to the protagonist, and the rest is filling in the blanks. Upon reading it however I'm not sure I agree- you do sort of find out what happened but the resolution is very much in doubt, and it therefore made for compelling reading.
Thisbe Locke is a top student and pretty responsible but she makes a mistake with the wrong guy and bad things happen from there, a domino effect of consequences that have a chilling result. After being humiliated by a guy she takes his car and parks it on the Coronado bridge- and when she disappears everyone assumes she jumped. The storytelling here is unique in that every chapter is a different POV, and there are many of them- we get not only Thisbe's perspective but her sisters, various witnesses as well as police and friends. Each perspective of course has a different angle, a different layer to add to the story, and I think this approach is problematic for some reviewers. I've seen some issues with this on some of the Goodreads reviews, for example.
I personally liked the approach and other than a few minor issues it mostly worked for me. The story rolls along as each perspective adds their touch - one POV often segues into the next as the story keeps moving. It's an interesting way to do it. I can see where it might not be for everyone. For me the bigger issue is the writing- it's good but it's almost too descriptive, like the author is going for a literary feel with the language. Which is not necessarily a bad thing- good writing is good writing- but in a tale like this it felt a bit much at times. I also thought there were some extraneous plot points that I didn't care about or were not essential to the story. I found myself skimming a bit.
There's also a creepy element with one of the POV's that I frankly didn't care for that much. I thought early on this might actually be a DNF, a story I didn't want to read, but I stuck with it and it kept me turning pages. It's a story in some ways about all the things that can go wrong- unintended consequences, how a simple text or teenage drama can have disastrous results. If you're a parent I can see this story making you want to confiscate your daughter's cellphone! And I think the POV switching was effective in raising tension- and some of the chapters are very short and this increases the momentum.

All in all I think this is an effective, somewhat unconventional story about a missing girl and what really happened. I read it in a day and the multiple POV's kept me reading even if I did skim a few times- mostly paragraphs that just seemed extraneous. It will make you think about how small things can turn into big things and how the world can be dangerous for kids. And it's well written if a bit flowery at times.