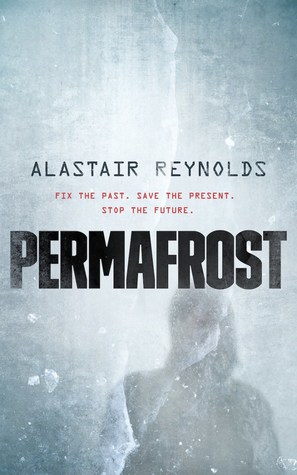 Permafrost was a trip! I've been reading a lot of time travel stuff lately- I just love how twisty and out there time travel can be- and this one is up there among recent favorites. The protagonist is a seventy-one year old teacher named Valentina, from rural Siberia, and she gets pulled into the story mainly because her mother, a famous mathematician, basically invented time travel. The year is 2080 and others have taken her work and applied it to the challenge of saving the world after a event called the Scouring, which caused most life on earth to die.
Valentina agrees to join the program, based out of a remote base in the Arctic Circle called Permafrost, and when she goes back in time she finds herself linked with a host named Tatiana. Her host has just had brain surgery and is recovering, and imagine her surprise when someone takes over her body and starts doing all this weird stuff. Valentina, for her part, is shocked to discover that she can hear Tatiana in her thoughts- they are essentially sharing Tatiana's body- and Tatiana even gets glimpses of the future in 2080. Definitely not something the time travelers foresaw!
I absolutely loved the dynamic between Val and Tatiana. It's so snarky and fun, and honestly saves a story that might have been thrilling but otherwise maybe a little too dense. By dense I mean not slow or boring, but this is a story that leans into the science aspect of time travel a bit. Not so much that it affects the story- if anything, I thought that the author very skillfully weaved the worldbuilding and science aspects into the action very well- but nevertheless this could have been a bit dry without the humor.
There's a chilling scene where they're talking paradoxes and a concept called "grandfathering," where changes made in the future ripple back and change the present, and Val's memory literally changes as the timeline is affected. Val literally goes from knowing "x" is an indisputable fact- after all, she just witnessed it- and then "y" happens and over a course of a few minutes she feels her perception of "x" slipping away. Shortly after that it's like "y" has always been the default. Kinda terrifying!
Also the cause of the apocalypse was refreshingly plausible and interesting. It's a mix of environmental and biological disaster, and anyone who is worried about things like the dying off of bees, or the disappearance of frogs and other amphibians (things that have been in the news the last few years) may get a chill reading about just how bad that could get.
There's a sense that once you open the time travel box you may not be able to control it. What if other parties take the progress you've made and start to undo what you'
ve
done? I can't say anymore but if you love time travel, or just a twisty story, this is a keeper.