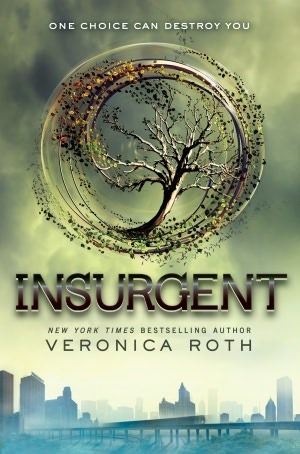 Insurgent was an interesting read for me. I saw Divergent before reading the book and was curious to see where things would go next- and I was curious to see what was outside the fence. I thought after seing the movie and reading the book that Tris and Four were heading out there -so when they returned to the city almost immediately I was a little disappointed, but still interested enough to see where Veronica Roth was taking hers tory.
After the events of Divergent, Tris and Four are on the run- and headed to the compound of the Amity faction. It was interesting to me that the Amity are outside the fence, and yet apparently don't venture too far? After all, we find out next to nothing about the outside world. After finding the Amity to be less than helpful, and facing attack by the Dauntless sent to capture them, they flee back to the city. Once there, they meet up with the factionless and their leader Evelyn- who has a surprising connection. From there the struggle against the Erudite heats up, old friends and enemies come and go, and we learn a little more about the factions and their reasons for existing.
I didn't really understand why they went back to the city. It seems like it would have been safer to go away somewhere, maybe far away- and that way we would get to see what's outside the city too. We quickly learn, however, that the battle against Erudite will be the defining feature of the book- and Tris and Four must navigate a minefield of obstacles if they are to survive and learn the truth about their society, and perhaps themselves.
This almost felt like a tour of the factions at times- first we get Amity, then the factionless and even Candor to round things out. The questions raised by the differing goals are the most interesting part of this series. At the same time everyone appears pretty ruthless- Jeanine especially, who never seems to have much nuance. We know she has motivations and goals, but we never really find out what they are. She has no problem with violence on a mass scale, and without knowing what drives her it's hard to see her as more than a two dimensional character. The other faction leaders are not much better- even the factionless. Evelyn apparently also is okay with violence to achieve her ends, Are there any good or inspiring leaders among these people? So far- not really.
I did like that Tori played a prominent role, but then at the end she turns and basically wants to deal harshly with Tris- are any of these people worth anything? I don't understand why Tris doesn't tell Four that she shot , why she thinks he will judge her. After all, he goes around shooting people left and right. The drama just seems artificial, like it was too much after a while- I mean, could Tris and Four keep any more secrets? I like it when characters communicate, talk to each other, as I've said in other reviews- if you have to manufacture drama and lovers' quarrels by keeping secrets every five minutes, I get so tired of that. That got a little old for me in this book. And Four, who I liked a lot in the first book (and the movie), was a little irritating- not always telling Tris what he was planning, and seeming rather naive about Evelyn and the machinations behind the scenes.
Having said all that, I did enjoy Insurgent. It's not perfect, and is perhaps too long- after all the whole book is primarily the struggle against Erudite, and not a lot happens relative t opage count- but I kept turning the pages and I was curious to see where things were going. I thought at times there was a bit of a Christian theme, with the exploration of whether man can be good. She also explores the basis of personality- are we just a result of synapses firing, or is there more to us than that? The best science fiction makes us think even as we are entertained, and Roth makes us think just enough. The ending is a cliffhanger and I definitly will continue reading to see the conclusion- how could I not after that ending? And after all, I still need to find out what's outside the fence.