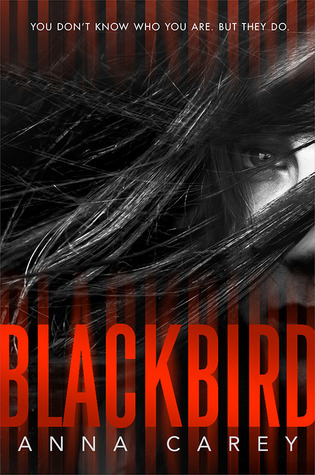 Blackbird
by Anna Carey is a story about a girl on the run. She wakes up on the train tracks at a subway station, with no memory of who she is or how she got there. Next to her is a knapsack with a thousand dollars and a note telling her not to contact the police. And she has a tattoo of a blackbird on her right wrist. As she struggles to find out who she is where she comes from, she finds herself the target of someone trying to kill her. She meets a boy named Ben who tries to help her, and she finds safety for a while- he names her Sunny, half in jest due to her personality, as she doesn't even know her name- but always they seem to find her, people who are hunting her- but to what purpose?
She calls a number in the knapsack and is told to go to a location- but when she gets there she finds herself framed for a crime. Now she truly is on the run- from the police as well as from the mysterious people hunting her. She finds herself being followed, but when a woman is about to kill her, the man following her saves her life. What does it all mean? The action escalates from there and Sunny has to find a way to stay alive.
Blackbird was a good, fast read. The story is told in a second person perspective, and while some reviewers have taken exception to that, it didn't both me at all. I got used to it right away and it didn't distract from my enjoyment of the story. The story itself has a bit of a Jason Bourne feel to it- Sunny just instinctively knows how to do certain things, like breaking a lock or disarming someone- and always she is on the run, having to outwit her shadowy pursuers. She starts to get snippets of memory, flashbacks and clues to her past as the hunt intensifies- but will Sunny survive long enough to learn the truth?
I liked the book for the most part. I did have a hard time suspending my disbelief at times. Sunny mostly makes good decisions, but there is one she makes at the end that I didn't understand (spoilers below). And the ending is rather abrupt- not only is nothing resolved, but there's a twist that just seems unrealistic. Even so, I liked this story a lot and am anxious for the next one.