Top Ten Tuesday is a weekly feature hosted by
The Broke and the Bookish
. Each week a new Top Ten list will be posted. Everyone is welcome to join. Link back to The Broke and the Bookish so everyone can check out other bloggers' lists. It's a fun way to get to know fellow bloggers.
This week's topic is Top Ten 2015 Books We Didn't Get to. I'm doing something a little different this week though- I don't really have a lot of stuff I didn't get to, and I've been wanting to do a rundown of all the shows from last year. So...
With the year all wrapped up I thought it would be fun to recap my favorite movies and shows of 2015. So in no particular order...
Mad Max Fury Road is a trip. Basically a two hour festival of mayhem, it follows Max and Furiosa (she's the real star of the movie) as they try to help five women escape from a lunatic warlord. It's weird and wild and Furiosa is about as kick ass as they come- oh and she only has one arm, the other one is prosthetic. There was a lot of hype on this one and I don't quite think it lived up to it (some are calling it the best movie of the year- don't know about that) but I'm glad I saw it.
Ex Machina is a mindbender of a movie that might have flown under the radar a bit this year, but if you like smart sci fi and an eerie look at artificial intelligence, this is a good one. Caleb is selected to spend time with an artificial intelligence named Ava to see if she has "consciousness", but when he finds himself attracted to Ava, things get dicey.
I know Insurgent wasn't popular in all corners but I liked the movie version a lot. I just thought it was entertaining, I liked the standoff at the farm, the fight on the train and the factionless thing. I thought they did a good job of showing a ruined Chicago. Yes they deviated from the plot of the book, which would normally irritate me, but in this case the movie just worked for me.
Continuum is probably my favorite show of last year. It ran four seasons so I was a little late coming to it, but I binged it and couldn't get enough. It's got awesome fight scenes, a great cast and a really twisty storyline that explores what happens when time is screwed with. Great show.
And Garza is amazing every time she's on screen.
Dark Matter is an awesome show about a group who wake up on a ship with no memory of who they are. This one of my favorite shows of last year, perhaps second only to Continuum. Here's the trailer.
The 100 S1 starts out a little angsty but once it gets going it gets intense and pretty gripping- and S2 is even better.
Black Sails is a pirate show airing on Starz but I've been watching it on Prime after hearing several bloggers rave about it.
Bloodline is set in the Florida Keys and the cinematography is top notch, adding to the sense of unease and danger that permeates the show. It's a bit of a slow burn and a little different in that we see the shocking finale right off the bat- then the rest of the episodes show us how we got there.
The biggest problem with Arrow is the writing- everyone lies or keeps secrets from everyone else on this show, and it's like a big soap opera. The characters are charismatic and fun to watch, but the stories are... kinda meh. Still it's fun.
Flash is a show I didn't think I would like, and I didn't watch it for the longest time. I finally tried it after finishing up Arrow and needing a new show to watch. I wasn't crazy about Cisco and Caitlin at first, when I saw them guest on Arrow, but after getting through a few episodes of Flash I started to really like the show, and they grew on me as well.
Mako Mermaids is a younger skewing show on Netflix- there are two seasons with S3 coming in February I believe. It's about three girls cast out of their mermaid pod and they have to adapt to living on land. It's shot on the Gold Coast in Australia and I have an appreciation for how beautiful that area is after watching this show.
Biggest Surprises
The Walking Dead- for the longest time I didn't know what anyone saw in this. Then I started watching- not even sure why- and I was hooked. I love how the group has turned int a family of sorts and how they survive together. Good stuff. Maggie's kinda hot too.
The Returned is a French show, 2 seasons (just concluded). It's easily the eeriest show on this list- it's about people coming back from the dead, but is nothing like TWD. Instead of violence it's all about freaking you out mentally. Eerie, moody, atmospheric- between the isolated French location and the music, you will be freaked out- but in a good way.
This was recommended to me by Megan at Reading Away the Days- thanx Megan!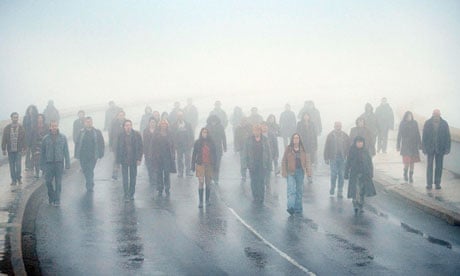 Zoo is a fun show about five people brought together to fight an outbreak of animal attacks around the world. I thought the premise was kinda silly but was surprised how good the show is. And the cast is great, they make it work.
Humans is a British- American production about a family that purchases a "synth" in a near future where the machines are used to do routine tasks. But are they just machines? This was a good show, only 8 episodes so it's a quick watch and S2 is coming in 2016.
Some Final Thoughts
I thought they did a pretty good job with this movie, all things considered. It was a fun live action retelling and not a bad movie.
Disappointments of 2015
These are probably not popular choices for disappointments, as a lot of people liked Avengers and Star Wars. All I can say is I enjoy the movies to varying degrees but I was expecting a lot more.