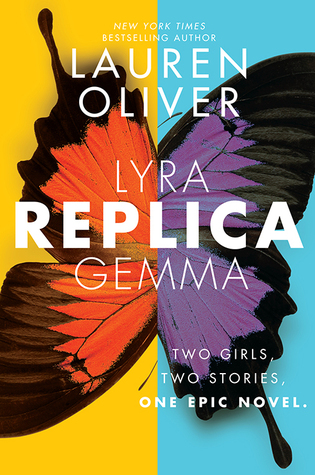 I've been wanting to read this one for a while, especially when I heard about the dual format. It's like two books in one- you can read from either perspective- Gemma or Lyra- or read both at the same time, alternating between chapters. I chose the latter option after seeing an interview with the author where she indicated it works well that way. And I'm glad I did. I think you can enjoy it either way, but flipping between POV's kept the pace going where otherwise it'd be like reading the same story twice, just from different angles.

Replica is quite the interesting story. It's a brave experiment too, and I commend Lauren Oliver for taking it on. I think it mostly works- the dual format does have a few issues but by and large it works. It's not a spoiler to say that Gemma and Lyra come together- Gemma is searching for the connection between a research facility called Haven and her father, while Lyra and another replica escape from the facility and have to face the outside world. We see that Gemma's life is complicated, she was sick a lot as a kid and is overweight, which causes her problems at school. She has one good friend, April, and even though her parents are rich she's not happy.

Lyra on the other hand knows nothing about the outside world and doesn't even think she's human- the replicas have been treated like nothings and that's how they look at themselves. Gemma and Lyra have distinct personalities and I truly felt like I was reading about two different girls- so Oliver makes that work. Of the two I think I liked Lyra more- her quest for meaning and inability to trust anything really made me sympathetic to her. Gemma on the other hand, while she had her moments, seemed a little more artificial to me- she spent a lot of time on her angst and her weight and I tired of that after a while. I think Oliver's trying to shine a light on those feelings though, so I get that.

I also thought there were some diversity boxes checked off here. Diversity is good but it seemed shoehorned in a bit. And it's certainly not a bad thing, I just felt it was a little overstated rather than just being natural. Otherwise I have very few complaints. The book did start a bit slow for me, but after a few chapters I was good. I liked it when Gemma and Lyra got together, and the side characters of Pete and 72 were interesting as well. Pete in particular has some humorous elements that make him a nice foil for the otherwise horrific story.

Speaking of which, I think Oliver does a great job here showing how horrible the Haven experiments are. The truth about what they're doing on Haven is slowly revealed, and it's pretty unthinkable. The other thing that I liked was the sense of place- the research facility off the coast of northern Florida and the ambience of the secluded island is portrayed well. And lastly the book ends on a note where the story could be continued, but it's no cliffhanger. I think it ends in a good place in that sense- complete in itself but clearly with more to say. I highly recommend Replica for anyone who likes a story about cloning or about kids running from sinister forces.