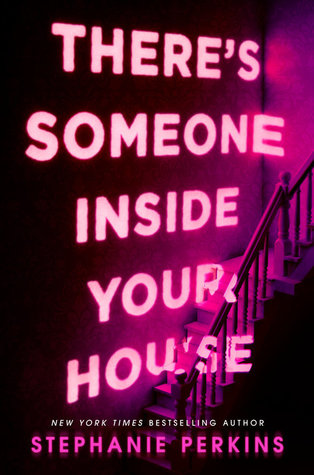 Stephanie Perkins isn't known for writing horror, generally speaking, but she makes a game effort here. This was a highly awaited book in YA circles, and after seeing some mixed reviews I wasn't sure what to expect. It's a YA slash-em-up book and sometimes you just want something quick and easy to read. I'm not a fan of slasher stories normally, but the description of "Scream meets YA" was enough for me to give it a shot. And while I'm not exactly a convert after reading it, it was good mindless fun for a few hours. And just creepy enough that you don't want to read it alone at home after dark.
In a lot of ways this is about the relationship between the two main characters as much as it is a slasher story, at least for the first half of the book, Makani is a recent transplant to rural Nebraska after something happened in Hawaii, where she's from- she has a secret that is not revealed until later in the story. Did she kill someone herself? There are hints that she did. She refers to herself as the only brown- skinned kid in the high school, and has a fling with Ollie, a similarly out-of-place kid who dyed his hair pink. Needless to say he's the only guy with pink hair at their school.
Makani and Ollie develop a relationship after initially just having sex, and even though brutal murders are occurring, I felt like the focus was on Makani and Ollie. And that was part of my problem, as I wasn't feeling Ollie at all. Makani was okay, no complaints there really, although she didn't wow me. She just was. Her friends Alex and Darby were the best part of the book for me. Darby is a trans who has identified as male, and you can probably imagine how well that goes over in the rural Nebraska town. But there was humor to leaven the stress a bit, and Alex was kind of a riot.
Speaking of the diversity elements, I feel like Perkins was trying to explore the different experiences one can have in modern society, depending on where you are. For example, Makani is a biracial girl raised in liberal Hawaii, who has a really hard time with the conservative ethos of Nebraska. She even muses about how not everyone lives the way people there live- she's truly a fish out of water. I just don't think it was that effective and it definitely seemed to reflect a certain viewpoint, which may work for some readers but not others. Mainly I just wanted to get on with the slashing.
As far as tension goes, it was a little creepy. The killer is pretty twisted, I'll say that. Not sure it's very scary, but there are tense and thrilling moments. I kinda liked the end, improbable as it was- that definitely could be a movie scene. And it's set in October so feels very seasonal at that time. All in all this was solid but not spectacular, I'd say a three star read- not essential but worth a read if you like Perkins or just want a YA slasher tale.